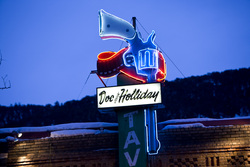 According to True West editors, "What attracts us to Glenwood Springs is how the town demonstrates history as relevant to everyday life through its pairings of historic attractions with modern-day needs."
Glenwood Springs, CO (PRWEB) December 18, 2009
True West magazine named Glenwood Springs, Colorado one of the Top Ten True Western Towns of 2010. The issue will be available at newsstands beginning January 6. The editors of True West determined the winners for this annual award based on criteria demonstrating how each town has preserved its history through attractions, old buildings, museums, exhibits, events, traditions and the promotion of historic resources.
According to True West editors, "What attracts us to Glenwood Springs is how the town demonstrates history as relevant to everyday life through its pairings of historic attractions with modern-day needs, such as the 1895 Fairy Caves that are a popular attraction at a local theme park and the 1896 vapor caves that have been renovated to a spa today. The 1888 Hot Springs Pool also features modern safety features, but its red sandstone bath house stands in its original form as a testament to the past." The article also noted that many preservation projects are spearheaded by local citizens.
To get a feel for what it's like to live in Glenwood Springs, True West interviewed long time locals, business owners and community activists, Gregg and Marilee Rippy. The couple revealed their favorite spots to eat, shop, play and relax in Glenwood Springs.
In a collaborative effort, the Glenwood Springs Chamber Resort Association teamed up with the Frontier Historical Society Museum to prepare the town's application for consideration by True West. "With a rich natural history, scenic beauty, famous historic figures and beautifully restored historic buildings, Glenwood Springs is indeed a Top Ten True Western Town," said Kate Collins, Vice President of Tourism Marketing for the Glenwood Springs Chamber Resort Association.
"In the past, folks like Tom Mix and Teddy Roosevelt visited Glenwood Springs," says True West Executive Editor Bob Boze Bell. "Thanks to the ongoing preservation efforts, today's visitors can enjoy the same atmosphere and history."
The Frontier Historical Society Museum actively preserves and promotes historical artifacts, as well as initiates programs that are educational and fun; the popular Historic Ghost Walks held each October to introduce visitors to apparitions from Glenwood Springs' past is a prime example. The museum serves as the living legacy of local life in Glenwood Springs.
Working in tandem with the Frontier Historical Society Museum, The Glenwood Springs Chamber Resort Association actively promotes all aspects of Glenwood Springs including its many historical amenities and events. These include the Glenwood Caverns Adventure Park, the Glenwood Hot Springs Pool, the Yampah Spa and Vapor Caves and Strawberry Days which is Colorado's oldest civic celebration.
"We are honored that True West chose to include Glenwood Springs in their 2010 list to Top Ten True Western Towns," said Collins. True West magazine has been publishing true stories of Old West adventure, history, culture and preservation since 1953. For a complete list go to http://www.truewestmagazine.com/stories/top_10_true_western_towns_of_2010/1353/all/
About Glenwood Springs
For more information about Glenwood Springs, Colorado, call 970-945-6589 or go to http://www.visitglenwood.com. For lodging reservations, call 888 4 GLENWOOD (888-445-3696). A complete press kit and press releases are available at http://www.glenwoodchamber.com/General-VP/Media-Center.html. Access to downloadable photos is also available upon request. Glenwood Springs is located between Aspen and Vail, 165 miles west of Denver or 90 miles east of Grand Junction on Interstate 70 off exit 116.
Media Contacts:
Kate Collins, Vice President of Tourism Marketing
Glenwood Springs Chamber Resort Association
970-945-6589 ext. 105
kate(at)glenwoodchamber(dot)com
or
Vicky Nash, Public Relations Representative
Resort Trends, Inc. – Tourism & Resort Communications
970-948-4923
vicky(at)resorttrends(dot)com
###