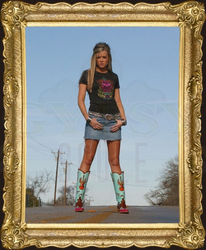 Bold. Innovative. Rock stars. Products for Women, designed by Women
Vista, CA (Vocus) August 21, 2009
Bold. Innovative. Rock stars.
Just some of the words that come to mind when describing western retail industry designers and long time friends, Lorenda Van Newkirk and Amy Moorhouse. Lorenda Van Newkirk broke the mold on flip-flops when she established her nationally known company, Gypsy Soule in 2003 as seen at http://www.gypsysoule.com.
With nowhere to go but further up, she recently partnered with funky, "western fashion guru," Amy Moorhouse. Moorhouse created a name for herself by designing for companies like Vogt, Petrol, and Crule girl; as well as her own line Gypsy Cowgirl. Moorhouse and Van Newkirk have now joined forces with one of a kind artist, Serena Alford, and launched the line Gypsy Cowgirl by Serena.
"Bold. Innovative. Rock stars. Products for Women, designed by Women," is the ultimate foundation of Gypsy Soule Inc. Handcrafted in Texas, these leather and hide embellished shoes are desired by so many due to the quality of the work and massive amount of bling, while being tasteful and unique.
Gypsy Soule has blown up into a household name, gaining recognition in magazines such as Cowboys & Indians, Roxanne, Quarter Horse News, Western Retailer, Us Weekly, American Cowboy, and E! News to name a few. Celebrities Miranda Lambert and Miley Cyrus are now proud owners of Gypsy Soule products after van Newkirk and Moorhouse "Rocked their Soules" out at this years Academy of Country Music Awards in nashville, TN. Not to mention Jennifer Love Hewitt is not only a proud owner of Gypsy Soule products, but features them on her website.
Constantly collaborating with each other on creating footwear, jewelry, clothes and tack full of personality, pizzazz and passion; Gypsy Soule is leading the western retail industry down the yellow brick road of fashion success.
Do you dare to follow and "Unleash Your Soule?"
Visit http://www.gypsysoule.com and contact us at media@chicexecs.com to feature Gypsy Soule, request a sample or schedule an interview.
Contact:
ChicExecs PR
760.992.9113
http://www.chicexecs.com
ChicExecs PR is an "out of the box" PR company which represents over 70 clients. ChicExecs has created an innovative approach to PR dedicated to helping small-medium business receive media coverage. Our revolutionary automated system is changing the face of PR. For more information visit http://www.chicexecs.com.
# # #