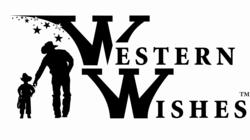 It is the mission of Western Wishes to reward the fighting spirit of courageous kids and share their compelling stories
CHEYENNE, WY (PRWEB) July 12, 2012
Non-profit organization Western Wishes is bringing plenty of star-studded firepower to its First Annual "8 Seconds to Glory" gala when it rides into town July 21. The red carpet affair will round up the original cast of the movie "8 Seconds", including its leading men Luke Perry and Stephen Baldwin. The event will draw awareness and drum up support for children and adults faced with adversity who live and love the western way of life.
When the event kicks off at the Little America Event Center in Cheyenne, cast members will escort the Western Wishes families and recipients down the red carpet to the gala event, where famed commentator Justin McKee of Great American Country (GAC) will serve as the emcee. Actor and Director Luke Perry, who portrayed World Champion Bull Rider Lane Frost in the film and actor Stephen Baldwin, who portrayed World Champion and Founder of Championship Bull Riding Tuff Hedeman, will be the guest speakers for the evening. The Western Wishes First Annual '8 Seconds to Glory' Charity Gala will be an opening celebration held in conjunction with the Cheyenne Frontier Days Rodeo and Championship Bull Riding (CBR) World Championships.
The upcoming charity gala will share a host of renowned musical guests and live entertainment, including contemporary Christian artists Rhonda Gunn and Susie McEntire, 2011 American Idol Finalist John Wayne Schultz, and RFD-TV's "Beyond Rodeo" star Susie Dobbs. Western Wishes' special music video "What Will You Say?" will also be presented in a private screening to pay tribute to its past and present Wish recipients.
Lane Frost's legacy lives on through the great cowboys and country music artists who have brightened the lives of the Western Wishes kids since 1994. The ties between Western Wishes and the movie "8 Seconds" are many, including the fact that both will be celebrating their 20th anniversaries in 2014.
"Western Wishes takes the meaning and spirit of the western way of life and lifts the spirits of children faced with extreme adversity...America's well known cowboys and cowgirls may be heroes to the kids, but what's extraordinary is that the kids become heroes to them," said Luke Perry.
Founder and President Donnalyn Quintana, who has lead the organization for more than 17 years, is committed to the well-being of children in need and intends to continue bringing honor and support to the children and families who have demonstrated bravery and resiliency in their battles with health. Quintana is determined to spotlight attention to Western Wishes' cause and generate immeasurable support for the organization's families with its "8 Seconds to Glory" charity gala. The event has already received a VIP Sponsorship from Exclusive Genetics, Title Sponsorship from Cowgirl Tuff Jeans and Presenting Sponsorship from Little America Hotel & Resort Cheyenne.
"Every time I am with our Wish families, I walk away as a changed human being; having learned another lesson in courage and strength," she said. "It makes me realize that we have a very serious agenda to edify kids, and send them out to inspire and to be ambassadors of hope to others. It is the mission of Western Wishes to reward the fighting spirit of courageous kids and share their compelling stories," she added.
Several of Western Wishes supporters are Grammy Award Winning Singer Taylor Swift, Country Music Legend Reba McEntire, CMT Award Recipient Brad Paisley, Professional Equestrian Chris Cox and many others in the western community.
Actor Stephen Baldwin said, "I'm thrilled to be a part of this event that so closely aligns with my own core values." "The Western Wishes foundation touches lives in a powerful way, and I'm proud to be a part of this annual event that furthers their important mission."
The red carpet event begins at 6:30 PM with confirmed guests Luke Perry, Stephen Baldwin, Rhonda Gunn, Susie Dobbs, Susie McEntire, John Wayne Schulz, Justin McKee, World Champion Bull Rider Tuff Hedeman, World Champion Bareback Rider Kelly Timberman, All-Around Rodeo Legend Larry Mahan, and many more invited celebrities.
Sponsorship opportunities for the event may still be available. For more information about Western Wishes and the "8 Seconds to Glory" charity gala, visit http://www.westernwishes.org/index.htm. To purchase tickets to the event, visit http://www.westernwishesstore.org/tickets.htm. Eileen Phillips, Communications Director, can also be reached at Eileen(at)westernwishes(dot)org or call 817-757-9216.
About Western Wishes
Western Wishes, founded in 1994, is a registered 501(c)3 non-profit organization that has been dedicated to supporting ailing children and their families since its inception. Western Wishes is reaching out for support ahead of this first annual event from corporate sponsors and donors who can help make a difference for children and families in need. Western Wishes has been able to serve victims of severe spinal cord and head injuries as well as survivors of cancer, muscular dystrophy, cerebral palsy, and heart afflictions.
For media and talent requests, contact YM & Associates PR | Marketing | Branding at Beverly Hills Media(at)YM-PR(dot)com and Talent(at)YM-PR(dot)com or 949-244-9769.
Yvette Morales
YM & Associates
PR | Marketing | Branding
California | New York
949.244.9769 | 310.499.0906 Fax
YMoralesY(at)YM-PR(dot)com
http://www.YM-PR.com
Twitter @YMTheBevHillsPR