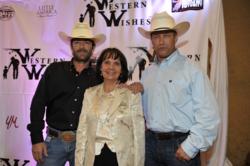 Western Wishes' first Annual '8 Seconds to Glory' event is just the beginning as we plan for future events that will draw awareness to children and families who need support as they try to overcome their personal battles with illness
Cheyenne, WY (PRWEB) July 26, 2012
A visit from some of Tinsel Town's stars to the Cowboy State helped brighten up Western Wishes' first annual "8 Seconds to Glory" charity gala for children and families facing adversity. In the spirit of Western fun and rodeo entertainment, the leading men from the movie "8 Seconds", Luke Perry and Stephen Baldwin, along with cast members from the film and living rodeo legend Tuff Hedeman, delivered a memorable night for the "8 Seconds to Glory" charity gala on July 21.
Western Wishes hosted the gala at the Little America Hotel Event Center, attracting hundreds of local and national supporters and helping the non-profit organization raise funds. A red carpet ceremony kicked off the event as the invited guests and celebrities joined the gala to honor children and families afflicted by serious illness and held a live and silent auction to raise money. The charity gala was held during the Cheyenne Frontier Days Rodeo and Championship Bull Riding (CBR) World Championships.
"Wish Kid" Mackenzie Matarozzo was bestowed the honor of "Rodeo Queen" at the event and rodeo as she was adorned a sash, buckle and authentic silver crown custom made by Tres Rios to the delight of thousands of rodeo fans during the July 23 performance of the Cheyenne Frontier Days Rodeo – a moment that captured the essence of Western Wishes' mission to bring smiles and touch the hearts of its children the western way.
Attendees for the event included Perry, Baldwin, Hedeman, Emcee Justin McKee, Susie McEntire, Susie Dobbs, Rhonda Gunn, John Wayne Schulz, World Champion Bareback Rider Kelly Timberman, CBR bull riders Clint Craig and Luis Blanco, and many more invited celebrities. Western Wishes received numerous sponsorships, including VIP Sponsorship from Exclusive Genetics, Title Sponsorship from Cowgirl Tuff Jeans, Presenting Sponsorship from Little America Hotel & Resort Cheyenne and Television Sponsorship from Hedeman's Championship Bull Riding (CBR).
The sponsorship support continued when CBR announced July 22 at the CBR Calcutta event that it will sell a bull named Jody, named in honor of a "Wish Kid", to the highest bidder. CBR raised approximately $74,000 and pledged to give a percentage to Western Wishes. On July 23, the first night of the CBR World Championships, CBR also showed a Western Wishes musical tribute video and introduced seven "Wish Kids" thereafter. The rigging bag from the '8 Seconds' film was used in a presentation for "Wish Kid" Chandler Davis from Weatherford, Texas, whose birthday is July 24.
"Western Wishes' first Annual '8 Seconds to Glory' event is just the beginning as we plan for future events that will draw awareness to children and families who need support as they try to overcome their personal battles with illness," said Donnalyn Quintana, Founder and President of Western Wishes.
Western Wishes is currently planning its next charity event, which will be held December in Las Vegas, Nevada in conjunction with the National Finals Rodeo (NFR). The charity is finalizing plans and will announce a date for the event soon.
For more information about Western Wishes and its upcoming events, visit http://www.westernwishes.org. Eileen Phillips, Communications Director, can be reached at Eileen(at)westernwishes(dot)org or call 817-757-9216.
For media inquiries, please contact YM & Associates PR | Marketing | Branding at Media@YM-PR.com or 949-244-9769.
Yvette Morales
YM & Associates
PR | Marketing | Branding at Beverly Hills
California | New York
949.244.9769 | 310.499.0906 Fax
YMoralesY(at)YM-PR(dot)com
http://www.YM-PR.com
Twitter @YMTheBevHillsPR