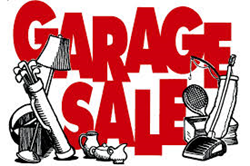 pricing will generally be lower than competing online product simply because its owners do not rely on large margins from sale
Westfield, IN (PRWEB) August 15, 2014
The idea is to bring garage sale pricing to the internet. Not to be too progressive all at once, however, westfieldbargains.com sports a localized garage sale map. Users can simply enter their target zip code to find all garage sales (including yard sales, community sales, etc) within a specified radius.
Further, patrons to the website can also advertise their upcoming garage sales free of charge, simply by supplying the garage sale address, dates, and times of sale.
The site is brand new, and Westfield Bargains hopes to attract a strong base of users via press releases and offline marketing. Its entrepreneurial proprietors have high hopes in the ultimate success of the business, staking confidence in the ubiquity of garage sales and the service this website provides thereby.
Regarding items sold through WestfieldBargains.com, pricing will generally be lower than competing online product simply because its owners do not rely on large margins from sale. Instead, their revenue is advertisement-driven, which allows them to sell everything at bargain price levels.
Here is the website link: http://westfieldbargains.com