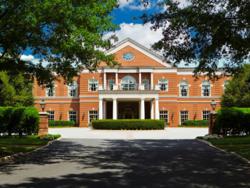 Of all the Chantilly hotels, few offer such an enticing and diverse spread of holiday treats like the Westfields Marriott Washington Dulles Hotel
Chantilly, VA (PRWEB) December 22, 2011
What better location to celebrate the holidays than at the luxurious, sophisticated Westfields Marriott Washington Dulles Hotel? Home to some of the best Chantilly restaurants, the Westfields, Dulles, hotel offers a glorious setting that is reminiscent of Northern Virginia's glorious colonial estates.
Of all the Chantilly hotels, few offer such an enticing and diverse spread of holiday treats like the Westfields Marriott Washington Dulles Hotel. Families are welcome to enjoy great dining in Chantilly and savor carved turkey, fresh salads and delicious desserts. After filling their stomachs, they can retire to comfortable Chantilly hotel rooms.
Some of the best dining in Chantilly, the Christmas Day Brunch at this Westfields Marriott Dulles hotel will be served from 11:00 AM to 2:30 PM and is priced at $70 for adults and $24 for children ages 5 to 10 (children 4 and under eat free). These prices are exclusive of taxes and gratuity. For reservations, please call 703-818-3520.
For Christmas, the Westfields Marriott Dulles Hotel will offer a lavish and bountiful brunch that will feature the following:
Salads

Bibb Lettuce, Baby Lola Rosa, Toasted Walnut, Poached Pear
Stilton Dressing, Mustard Vinaigrette
Saffron Pastina
Chic Pea and Red Swiss Chard Salad
French Green Bean Salad
Platters

Chilled Breast of Duck, with Roasted Winter Vegetables
Drizzled with a Black Berry Vinaigrette
Chilled Beef Tenderloin with Heirloom Tomato Salad
Drizzled with a Dijon Mustard Vinaigrette
Seared Sea Scallop with Lemon Basil Cappillini Salad
Antipasto Platter
Wine Salami, Proscuitto Ham, Grilled Asparagus, Marinated Sundried Tomato,
Picholine, Kalamata & Manzanilla Olives, Grilled Portobello Mushroom
Entrees

Coriander Crusted Filet with an Ancho Demi Glace
Poached Asparagus, Seared Roma Tomatoes, and Roasted Corn and Shitake Relish
Parmesan Crusted Corvina with a Citron Buerre Blanc
Aspiration, Heirloom Tomato and Basil Relish and Little Neck Clams
Sundried Tomato and Fennel Scented Chicken with a Pommery Demi Glace
Fennel Slaw,
Roasted Shallot and Spinach Mashed Potatoes
Carving

Horseradish Crusted Rib Eye
Roasted Garlic Jus
Horseradish Sour Cream
Rum Glazed Ham
Roasted Ham Jus
Breakfast Items

Belgium Waffle Station
Macerated Fruit Syrup, Sundried Cherries, Apricots, and Figs
Whipped Mascarpone
Poached Egg over Proscuitto Crisp
Drizzled with a Choron Sauce and Yellow Tomato Basil Relish
Scrambled Eggs
Sausage
Apple Wood Smoked Bacon
Cinnamon French Toast
For New Year's Day, the hotel will be serving its regular weekly Champagne Brunch featuring an array of composed salads, several entrees from seafood to beef, a Belgian waffle station, omelets to order, bacon, apple-wood smoked sausage, and an array of desserts to choose from topped off with a champagne toast. This will be the last weekly Sunday Brunch before the hotel's winter break. The weekly Sunday Champagne Brunch will then recommence on March 4th.
About the Westfields Marriott Washington Dulles Hotel
The Westfields Marriott Washington Dulles offers 336 well-appointed guest rooms and suites that feature Marriott's signature bedding, views of the beautiful Northern Virginia countryside, and all of the comforts of home. Guests can dine in the Palm Court restaurant which offers breakfast, lunch, and dinner, as well as an award-winning Sunday Champagne Brunch with a specialty eggs and Belgian waffle station plus a carving station and international cheese display, or opt for something more relaxed at the Fairfax Dining Room which has buffet-style dining. Afternoon relaxation can be found at the British-style Wellington's Pub with multiple HDTV screens and billiard tables, or guests can grab their favorite cup of coffee and a sweet treat at Starbucks Coffee House. The hotel also makes a stay as hassle-free as can be with complimentary parking and access to wireless Internet in each guest room. For additional information, call 703-818-0300 or visit http://www.WestfieldsMarriott.com
###