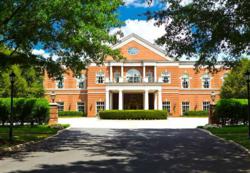 On Sunday, April 8th, the Westfields Marriott Hotel will offer an Easter Champagne Brunch from 11 a.m. to 2:30 p.m.
Chantilly, VA (PRWEB) April 02, 2012
Celebrate the arrival of Spring and the family getting together for Easter at a truly elegant setting reminiscent of Northern Virginia's glorious colonial estates: Westfields Marriott Washington Dulles. One of the finest hotels in Chantilly, the Westfields Marriott offers guests a diverse and delicious brunch.
The hotel's Chantilly restaurants commemorate many major holidays with a delicious brunch, and Easter is no exception. On Sunday, April 8th, the hotel will offer an Easter Champagne Brunch from 11 a.m. to 2:30 p.m. which will feature the following:
Salads

Bibb Lettuce, Baby Lola Rosa, Toasted Walnut, Poached Pear, Sundried Cherries
Stilton Dressing, Mustard Vinaigrette
Wild Rice and Granny Smith Apple Salad
Apple Cider Mustard Vinaigrette
Spring Couscous Salad
Saffron Vinaigrette
Chic Pea and Red Swiss Chard Salad
Ravioli and Printemps Salad
Platters

Hoison Glazed Breast of Duck, with Chinese Green Bean Salad
Chili and Ginger Vinaigrette
Chilled Beef Tenderloin with Heirloom Tomato Salad
Drizzled with a Tarragon and Shallot Vinaigrette
Herb Crusted Goat Cheese with Yellow Tomatoes
Drizzled with an Extra Virgin Olive Oil
Antipasto Platter
Wine Salami, Prosciutto Ham, Grilled Asparagus, Marinated Sundried Tomato,
Picholine, Kalamata & Manzanilla Olives, Grilled Portobello Mushroom
Entrees

Mustard Crusted Filet with a Roasted Shallot Demi Glace
Poached Asparagus, Roasted Vine Ripe Tomatoes, and Marinated Artichokes
Seared Corvina with a Coconut Ginger Buerre Blanc
Sesame Green Bean Salad, Braised Bok Choy
(Sweet Jasmine Rice Pyramids)
Lemon-Thyme Marinated Breast of Chicken with a Roasted Chicken Jus
Braised Rapini, Golden Beets, Tomato Relish
Roasted Shallot and Spinach Mashed Potatoes
Carving

Mustard and Herb Crusted Sirloin of Beef
Garlic and Thyme Jus, Horseradish
Rum Glazed Ham
Roasted Ham Jus
Breakfast Items

Belgium Waffle Station
Macerated Fruit Syrup, Sundried Cherries, Apricots, and Figs
Whipped Mascarpone
Poached Egg over Grilled Tomato
Drizzled with a Choron Sauce, Fried Basil
Scrambled Eggs
Maple Sausage
Apple Wood Smoked Bacon
Cinnamon French Toast
Desserts

Chocolate Chambord Cake
Blackberry Cheesecake
Paris Brest
Peach Cobbler
Layered Berries with Cassis Cream on the Rocks
Key Lime Mousse Martini
Orange Macaroons
English Trifle Shots
Midori Mousse Martini
Mango Mousse Shot with Genoise
Mini Lemon Tart
The Westfields Easter Brunch is priced at $70 for adults and includes champagne. For children 5 to 10 years old, the price is $24, and children under 4 are complimentary. These prices are exclusive of taxes and gratuity. For reservations, please call 703-818-3520.
Discover great Chantilly dining at the Westfields Marriott Washington Dulles Hotel this Easter and celebrate the season with great food, a warm environment and good friends.
About the Westfields Marriott Washington Dulles Hotel
The Westfields Marriott Washington Dulles offers 336 well-appointed guest rooms and suites that feature Marriott's signature bedding, views of the beautiful Northern Virginia countryside, and all of the comforts of home. Guests can dine in the Palm Court restaurant which offers breakfast, lunch, and dinner, as well as an award-winning Sunday Champagne Brunch with a specialty eggs and Belgian waffle station plus a carving station and international cheese display, or opt for something more relaxed at the Fairfax Dining Room which has buffet-style dining. Afternoon relaxation can be found at the British-style Wellington's Pub with multiple HDTV screens and billiard tables, or guests can grab their favorite cup of coffee and a sweet treat at Starbucks Coffee House. The hotel also makes a stay as hassle-free as can be with complimentary parking and access to wireless Internet in each guest room. For additional information, call 703-818-0300 or visit http://www.WestfieldsMarriott.com.
About Marriott Hotels & Resorts
Marriott Hotels & Resorts continues to inspire and provide a balanced life on the road for discerning and high-achieving business and leisure travelers, offering warm, professional service; sophisticated yet functional guest room design; lobby spaces that facilitate working, dining and socializing; restaurants and bars serving international cuisine prepared simply and from the freshest ingredients; meeting and event spaces and services that are gold standard; and expansive, 24-hour fitness facilities. All Marriott hotels participate in the award winning Marriott Rewards frequent travel program that allows members to earn hotel points or airline miles for every dollar spent during each stay. For more information, visit http://www.MarriottHotels.com.