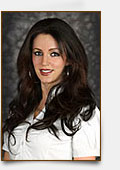 West Hollywood, CA (PRWEB) September 24, 2012
While a human's teeth are extremely durable and can stand up to years of abuse, any major damage to the gums or the outer enamel could potentially be irreversible. This can be particularly difficult when an individual comes to find out that their whitening treatment is in fact the cause of damage. In order to make these whitening treatments more effective and safe than ever, West Hollywood cosmetic dentist, Dr. Poneh Ghasri, is now offering the advanced Zoom whitening system that will improve the tone of one's teeth without the damage or discomfort.
Zoom has quickly become one of the most highly sought-after whitening treatments that are currently available today due to its effectiveness and its safety. Unlike other bleaching services that may require harsh chemicals, Zoom is a careful blend of whitening agents and anti-sensitivity ingredients that make it desirable to patients with dingy or discolored teeth. The treatment can also often be carried out in less than an hour, meaning that patients could have a smile that is 8 shades brighter within a day.
West Hollywood Zoom whitening specialist, Dr. Poneh Ghasri works with a team of multi-specialty dentists that assist patients throughout Southern California. They offer a number of popular dental treatments and services including Invisalign aligners, dental implants, Lumineers, basic checkups, teeth cleaning, and fillings.
A dingy or discolored smile is something that quite a few individuals will be forced to endure at some point in their life, but this does not mean that they must resort to ineffective and potentially harmful whitening services. With the Zoom system now offered by Dr. Ghasri, teeth whitening specialist in West Hollywood, a bright and healthy smile can be created in less than an hour.
About Poneh Ghasri DDS, Dentist West Hollywood
Dr. Poneh Ghasri is a graduate of the UCLA School of Dentistry and has over a decade of experience as a trusted cosmetic dentist throughout the Los Angeles area. She works closely with a team of experienced and friendly dentists that offer services ranging from chairside whitening to full mouth restorations with porcelain veneers.
For more information, visit Sunset Plaza Dental at 8539 Sunset Blvd, suite 16, West Hollywood, CA 90069. You can also call (310) 873-3787 or visit http://www.sunsetplazadental.com.