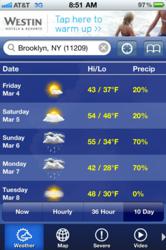 Through this instinctive campaign we can connect with a potential guest in a meaningful way by transporting them to one of our renowned resort destinations with just a swipe of their finger.
White Plains, NY (Vocus/PRWEB) March 10, 2011
Need a warm weather getaway? Westin Hotels & Resorts announced today the launch of a new mobile rich media ad campaign that invites consumers to "Warm Up Your Winter." The campaign, currently running on The Weather Channel® for iPhone app, leverages the touch capabilities of the iPhone to give users a sneak peak at warm-weather Westin resorts and experience a sun-filled getaway in the palm of their hands as they are viewing the chilly forecast for their hometown.
Razorfish, the digital agency for the brand, worked with Medialets to create and serve the ad on the Medialets mobile rich media ad platform. The Weather Channel app offers great scale and uses weather targeting in this campaign. The campaign places an expandable banner ad on any weather page with a colder forecast and invites users to "Tap here to warm up." Upon tapping, virtual frost takes over the iPhone's screen, which can be "wiped" away to reveal a photo carousel featuring eight Westin Hotels & Resorts located in warm climates. The carousel rotates from property to property with the swipe of a finger or a tap of the visible arrows. Within each property preview, users can tap-to-call Westin reservations or tap-to-visit Westin.com to make a reservation.
"On the heels of the worst winter season in decades we're excited to use this Weather Channel app to bring the Westin Resort experience to life," said Brian Povinelli, Vice President of Marketing for Westin Hotels & Resorts. "Through this instinctive campaign we can connect with a potential guest in a meaningful way by transporting them to one of our renowned resort destinations with just a swipe of their finger."
"This engaging ad delivers a relevant invitation for a warm weather escape exactly when consumers need it most – when looking at their current weather forecast," said Pete Stein, president of the east region at Razorfish. "We're very proud of the innovative work we've created for Westin Hotels & Resorts during our longstanding relationship, and this campaign is another example of success."
"The most meaningful mobile rich media ad units are anything that incorporates touch," said Medialets CEO Eric Litman. "With the brutal winter we're experiencing across the country, we thought it would be great to let consumers wipe away winter and see what's possible at one of Westin Hotels & Resorts' world class warm-weather properties."
The Westin Hotels & Resorts properties included in the "Warm Up Your Winter" ad are the Westin Resort & Spa Maui, The Westin Kierland Resort & Spa Scottsdale, The Westin Resort & Spa Los Cabos, The Westin Resort & Spa Cancun, The Westin Diplomat Resort & Spa Fort Lauderdale, The Westin Resort & Spa Puerto Vallarta, The Westin St. John Resort & Villas St. John USVI, and The Westin Mission Hills Resort & Spa Palm Springs.
The campaign is running on The Weather Channel for iPhone app from March 1 to April 1, 2011. A video of the campaign in action can be seen at the Medialets Showcase.
About Westin Hotels & Resorts
Westin Hotels & Resorts makes the healthiest choices irresistibly appealing, so guests leave feeling better than when they arrived. With over 170 hotels and resorts in over 36 countries and territories, Westin is owned by Starwood Hotels & Resorts Worldwide, Inc. Starwood Hotels is one of the leading hotel and leisure companies in the world with 1000 properties in nearly 100 countries and territories with 145,000 employees at its owned and managed properties. Starwood Hotels is a fully integrated owner, operator and franchisor of hotels, resorts and residences with the following internationally renowned brands: St. Regis®, The Luxury Collection®, W®, Westin®, Le Méridien®, Sheraton®, Four Points® by Sheraton, and the recently launched Aloft®, and Element SM. Starwood Hotels also owns Starwood Vacation Ownership, Inc., one of the premier developers and operators of high quality vacation interval ownership resorts. For more information, please visit http://www.starwoodhotels.com.
About The Weather Channel Companies
The Weather Channel companies (TWCC) are made up of The Weather Channel® television network, The Weather Channel digital properties, and WSI. The Weather Channel is based in Atlanta and is seen in more than 100 million U.S. households. TWCC also operates Weatherscan®, a 24-hour all-local weather network; The Weather Channel Radio Network; and The Weather Channel HD. The digital properties of TWCC, which include the weather.com® site, The Weather Channel Desktop and The Weather Channel Mobile, reach more than 40 million monthly unique users, are the most popular source of online weather news and information, and offer the second most popular mobile application on all smart phones. WSI, headquartered in Andover, MA, primarily provides business-to-business weather services, particularly for the media, aviation, marine and energy sectors. TWCC is owned by a consortium made up of NBC Universal and the private equity firms The Blackstone Group and Bain Capital. For more information, visit http://www.weather.com/press.
About Razorfish
Razorfish creates experiences that build businesses. As one of the largest interactive marketing and technology companies in the world, Razorfish helps its clients build better brands by delivering business results through customer experiences. Razorfish combines the best thought leadership of the consulting world with the leading capabilities of the marketing services industry to support our clients' business needs, such as launching new products, repositioning a brand or participating in the social world. With a demonstrated commitment to innovation, Razorfish continues to cultivate our expertise in Social Influence Marketing, emerging media, creative design, analytics, technology and user experience. Razorfish has offices in markets across the United States, and in Australia, Brazil, China, France, Germany, Japan, Spain, Singapore and the United Kingdom. Clients include Carnival Cruise Lines, MillerCoors, Levi Strauss & Co., McDonald's and Starwood Hotels. With sister agencies Starcom MediaVest, ZenithOptimedia, Denuo and Digitas, Razorfish is part of Publicis Groupe's (Euronext Paris: FR0000130577) VivaKi, a global digital knowledge and resource center. Visit http://www.razorfish.com for more information. Follow Razorfish on Twitter at @razorfish.
About Medialets
Medialets is the most widely deployed rich media advertising platform for mobile and connected devices, enabling the industry's highest-impact rich media across the broadest array of premium publishers, ad networks and devices. Leading publishers like CNN, The Daily, Fandango, The New York Times, Pandora and The Weather Channel use Medialets to deliver and measure deeply engaging rich media advertising for the world's biggest brands. Advertisers and agencies choose Medialets for our ability to enable exceptionally creative ads that take full advantage of native device capabilities and drive double-digit engagement rates. Visit http://www.medialets.com or follow Medialets on Twitter @medialets.
###