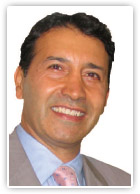 West Los Angeles, CA (PRWEB) July 23, 2012
Finding professional dental services for children can be an expensive and time-consuming chore for parents. There are a nearly unlimited amount of options when it comes to pediatric treatments and services and many are unsure of which dental practice to turn to in order to receive friendly assistance that will put their kids at ease throughout every single appointment. This is why West Los Angeles dentist, Dr. Eftekhari, is now offering a full line of treatments for the entire family in a warm and welcoming atmosphere.
It can be all too easy for a family to realize that they have not received professional dental treatments for months or even years on end. Even parents that are extremely diligent about the health and safety of themselves and their kids may avoid these checkups for any number of reasons, but this can be a costly mistake. With tooth loss, periodontal disease, and dental caries being a serious risk for patients of all ages, the services provided by a trusted and experienced dental practice are important for every family.
As a seasoned cosmetic dentist in West Los Angeles, Abbas Eftekhari DDS has practiced with countless families throughout the years, providing them with a full line of cosmetic, general and preventative treatments and services. Parents and their children have come to United Dental Care to enjoy a bright and healthy smile with options such as fluoride treatments, spacers, porcelain veneers, dental crowns, sealants, teeth whitening, and more.
Many local parents that would like to keep their children as healthy and happy as possible are now turning to United Dental Care in order to receive the most effective and pain-free dental services in a welcoming and friendly atmosphere.
About Abbas Eftekhari DDS, West Los Angeles Pediatric Dentist
As a proud member of the American Dental Association, Dr. Abbas Eftekhari enjoys over 20 years of experience within the field of dentistry. Along with their West Los Angeles Invisalign provider, this dental practice provides some of the most essential cosmetic and general dentistry services including Zoom whitening, root canals, braces, fillings, and more.
You can visit http://www.culvercitydentist.com or call (310) 390-6000 for more information. United Dental Care is located at 3909 S. Sepulveda Blvd. in Culver City, CA 90230.