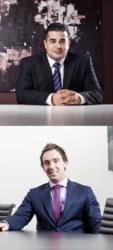 Melbourne locals and Family Law specialists Frank Chila and Will Stidson volunteer as solicitors to provide free legal assistance to those in need.
Melbourne, Victoria (PRWEB) May 24, 2012
The highly accredited team at Westminster Lawyers are renowned for being specialists in Family Law. Melbourne locals and integral members of this law firm, Frank Chila and Will Stidson, wear their hearts on their sleeve, by volunteering their time and expertise at St Kilda Legal Service and Peninsula Community Legal Centre (PCLC), the latter of which is the largest free legal service in the South East of Melbourne and provides assistance and advice to thousands of individuals annually.
While the cost is free, the high calibre advice these two solicitors are able to provide is invaluable for their clients, the majority of which suffer from either an economic or social disadvantage.
Both solicitors assist clients with a myriad of legal problems, but focus primarily on their specialty of Family Law. Melbourne residents who hail from a variety of suburbs are known to leave the free advice sessions with satisfaction and reassurance that they have both options and rights.
The community centres report that their clients are generally extremely grateful for the volunteer solicitors' time and advice and often proceed to recommend the services to friends.
When asked why he offers his services as a night volunteer at St Kilda Legal Service on an ongoing basis, Frank Chila states emphatically, "I believe that everyone deserves access to legal representation, whether it be quick, once off advice or ongoing representation."
Mr Chila expands further on why he sees his volunteer efforts as being so crucial, saying "One of the major benefits to my clients is helping each individual help themselves. I provide the client with as much information and help as I can about the relevant law and advise them on the most appropriate course of action that they themselves can undertake."
Will Stidson first made the decision to volunteer at both the Frankston and Bentleigh branches of the PCLC back in 2006. As Mr Stidson explains "I initially commenced volunteer work as a way to develop my skills and obtain an insight as to what life as a solicitor would be like. I ultimately enjoyed the experience so much that I decided to maintain volunteering subsequent to being admitted to practise as a solicitor."
In terms of why he continues to provide specialist family law assistance, Mr Stidson states, "I continue to volunteer in an effort to give back to the community and provide the more underprivileged and vulnerable with legal assistance that they may not have otherwise had access to. I believe I should do my best to assist a community which has given so much to me whilst I am able."
Through his involvement in the St Kilda community, Mr Chila has discovered a key issue confronting the area, saying "Unfortunately, I have come to notice that for many cultures a stigma remains in relation to seeking legal advice regarding Family Law issues, specifically, Family Violence."
For this reason, the young solicitor is seeking to undertake a community and cultural awareness program in association with the St Kilda Legal Service in an attempt to eliminate the stigma associated with obtaining legal advice in this area.
For more information about the Westminster Lawyers team and services, visit http://www.westminsterlaw.com.au
About Westminster Lawyers
The highly experienced group of accredited family law specialists at Westminster Lawyers has built their strong reputation for providing expert and cost effective legal representation over many years.
Their aim is to find the optimum solution for each client in the most efficient and effective manner possible, thus minimising the stress and impact of the wide array of matters contained within this highly emotive area of law.