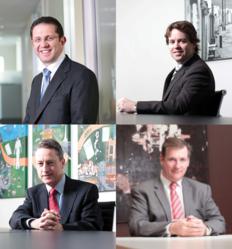 Our role as mediators is to use our experience and expertise to help separating couples find the optimum solutions to the challenges they face in a dignified, timely, and cost effective manner.
Melbourne, Victoria (PRWEB) July 02, 2012
Westminster Lawyers is a Melbourne CBD based firm that practices almost exclusively in Family Law and have always focused on providing solutions for their clients in a sensitive, timely and cost-effective way during the often distressing time of family breakdown. To assist parties in maximising their chances of reaching a mutually acceptable settlement without having to incur the time and expense of litigation, Westminster Lawyers have recently established a mediation practice called Westminster Family Mediators.
While it is associated with the existing Westminster Lawyers legal practice, the newly launched Westminster Family Mediators will operate separately when conducting mediations.
In keeping with the firm's goal of providing expertise at the highest level, the four mediators at Westminster Family Mediators are all experienced in mediation and have each completed mediation training provided by Bond University and been accredited as mediators under the National Mediator Accreditation Scheme.
"Parties will certainly be in very good hands during the mediation process, as Neil Collins, Tony Salce, Julian McDonald and myself make up the team at Westminster Family Mediators and we're all also Accredited Family Law Specialist Lawyers, with over 90 years of combined legal experience," explains highly experienced lawyer and mediator, Mr Michael Lefebvre.
While the first step for Westminster Lawyers is often to seek a solution through negotiation rather than launching directly into the expensive minefield of litigation, it is an unfortunate reality that these negotiations can often break down. This may be due to a lack of a structured process and environment for the negotiations to take place, or a lack of understanding of the parties of the negotiation process.
As Mr Lefebvre recounts, "We have all heard the horror stories from friends, acquaintances and family of the expense, delays and angst experienced by people involved in Family Law proceedings."
"Fortunately, mediation is another way to deal with these issues that will not drain the wallet, keep you waiting as long or cause the anguish of Family Court proceedings."
Considering using a mediation service conducted by an accredited mediator with experience, expertise and sensitivity can guide couples and families to a sensible and fair resolution of their issues.
In addition, the parties involved are welcome to participate in the mediation without incurring the expense of engaging their own lawyers to attend, although lawyers can be involved if both parties agree.
To summarise their role as mediators, Westminster Family Mediator, Tony Salce says "Family Law problems are very stressful and we recognise the emotional upheaval experienced by many people following the breakdown of a relationship."
"However, there are solutions to all family law problems. Our role as mediators is to use our experience and expertise to help separating couples find the optimum solutions to the challenges they face in a dignified, timely, and cost effective manner."
For those who have already separated or are considering separation, or have been unable to resolve other family law related issues, the newly formed Westminster Family Mediators could help them to reach a mutually acceptable settlement that would enable parties involved to move forward, without having to incur the expense and time taken by litigation.
For further information about the mediation process or Westminster Family Mediators, visit http://www.wfmediators.com.au/
About Westminster Lawyers
Westminster Lawyers has built their strong reputation for providing expert and cost effective legal representation over many years and are proud to have nine Accredited Family Law Specialist lawyers among its team of twelve dedicated lawyers.
Their aim is to find the optimum solution for each client in the most efficient and effective manner possible, thus minimising the stress and impact of the wide array of matters contained within this highly emotive area of law.