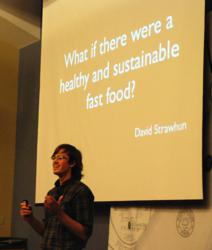 'What If…?' questions are a way to tap into our unlimited potential, pointing us in directions that challenge our thinking, encourage learning and allow us to grow from the experience.
Fulton, MO (PRWEB) February 26, 2013
TED (Technology, Entertainment and Design) Talks and Conferences have transformed the way ideas and information are shared by experts in a wide range of fields. But what if there were a pre-TED? What if there was a forum where anyone, not just experts, could share and inspire ideas worth spreading? Such a community of collective curiosity does exist and it was created by a professor and student at a small Midwestern liberal arts college called Westminster.
Those who have ever pondered such life questions as "What if we could live forever?" or "What if there were no religion?" will find themselves in the midst of a curiosity free-for-all by attending the innovative and unique What If…? Conference March 1-2 in the Coulter Science Center on the campus of Westminster College in Fulton, MO.
People ranging from middle school students to educators and entrepreneurial leaders to retirees have signed up to interact and exchange their ideas on such world-changing questions in the hopes of opening up new ideas and making connections between ideas that could change the world. "What If…?" engages all walks of life by establishing an equal grounding for them to interact, learn and share with each other.
"Ideas aren't the end point of What If…?" says Andrew McHugh, Westminster College senior and event co-founder from Kirkwood, MO. "We're in the business of using ideas as resources to fuel disruptive, transformative change—change that can't be found through the standard question-and-answer approach. How many world-changing solutions remain stagnant because they aren't being properly connected to people and situations that could put them into action?"
Westminster College student Tyler Haulotte, a sophomore from Round Rock, TX, who attended last year's conference, says, "'What If ...?' inspired me to pursue my passions. It showed me that intellectual curiosity doesn't have to just be a hobby; it's something people can dedicate their entire lives to."
"'What If…?' is an example of Westminster College becoming a leader in what might be called the emerging field of 'edupreneurship,'" says Westminster President Dr. George B. Forsythe. "It is much more than just an annual conference. It is a social enterprise created by a professor and student that truly represents not just 'out of the box' learning but out of the classroom learning."
The concept for the "What If…?" Conference was the brainchild of McHugh and Westminster English Professor Matt Murrie. Their pioneer conference held on campus in February 2012 was a huge success.
Under the structure of the conference, 20 different "What If…?" questions are introduced over the day and one-half of sessions. The first day consists of group problem solving. In the second day, each question is introduced by a presenter in an eight-minute presentation. Then breakout sessions are held where conference attendees can share their ideas and ask additional questions of each other. In addition to the talks, installation artwork also furthers active curiosity.
"'What If…?' sets out to democratize ideas by engaging equals and non-equals alike and providing them with a platform to bring this change into individual lives, schools, communities and the reality we all share," says Murrie. "'What If…? questions are a way to tap into our unlimited potential, pointing us in directions that challenge our thinking, encourage learning and allow us to grow from the experience."
Murrie will deliver a "What If…?"-related presentation at an upcoming area TEDx event this April. McHugh and Murrie have been invited to share their "What If ...?" concept with schools from all over the world this June at the Future Problem Solving Conference in Bloomington, IN.
To register for the conference or to obtain more information, people should visit the conference website at http://www.thewhatifconference.com/.
Founded in 1851, Westminster College is one of the top liberal arts colleges in America, according to all major educational ranking firms including U.S.News & World Report, Forbes magazine, The Princeton Review and Washington Monthly. This selective college for men and women operates on two campuses, one an 86-acre residential campus in Fulton, MO, and a second Southwestern urban campus in the vibrant downtown of Mesa, AZ. Westminster is a challenging academic environment where students are educated to lead and inspired to achieve.
To learn more about Westminster College, people can visit the College web site at http://www.westminster-mo.edu.
###