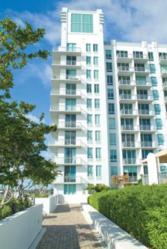 West Palm Beach, FL (PRWEB) October 25, 2012
On October 8th, 2012, Palm Beach Condo Company brokered and completed the final sale of developer inventory at The Edge in Downtown West Palm Beach. The Edge, located at 300 South Australian Avenue, is a 307 unit luxury high-rise community developed by Wood Partners. The Edge is the first building to sell out of developer inventory of the newer condominium products built in West Palm Beach during the last building cycle. Other buildings like City Palms, Two City Plaza and South Tower at City Place all still sit between 35% and 50% of inventory remaining.
Since 2009, Palm Beach Condo Company, led by Brokers Brian Saver and Adam Kessler, controlled and managed the sales and marketing of the remaining inventory left over as a result of the collapse of the South Florida condo market. The sellout success can be attributed to the developer's aggressive pricing and Palm Beach Condo Company's outreach to Canadian and European buyers.
For more information on The Edge or other Downtown West Palm Beach condo projects please contact Palm Beach Condo Company.