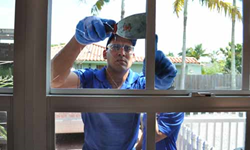 Some of our customers are property owners who have to care for several properties at once
West Palm Beach, FL (PRWEB) April 27, 2016
Express Glass, a top glass repair service in West Palm Beach, is proud to announce a social media milestone: the company has reached 1000 tweets on Twitter on glass-related topics ranging from sliding door repair to window replacement to commercial glass topics and more.
"Some of our customers are property owners who have to care for several properties at once," explained Yaniet Santos, general manager of Express Glass. "They are very busy people yet they are keenly interested in the minutia of running their businesses in a professional fashion. We tweet in a very serious way on glass-related tips and insights to make their businesses better, and by crossing the 1000 tweet milestone in April, 2016, we have really achieved something innovative."
To read the Express Glass Twitter feeds go to: https://twitter.com/expressglassfl. Alternatively, readers can go directly to the West Palm Beach page at http://www.expressglassfl.com/west-palm-beach-glass-window-repair/, and click on the 'blog' link to read the company's informative blog posts. The company primarily tweets out new blog posts. Other city-specific pages are available as well.
West Palm Beach's Top Glass Repair Company Helps Property Managers Juggle Many Sliding Door Repairs One Tweet at a Time
Managing several properties at once can be a multi-tasking challenge for West Palm Beach owners. One day there may be a need for sliding door repair at a condo. The next night a storefront window may be smashed from vandalism at 2am. Owners and managers require quick 24/7 access to information from a professional glass repair company during any emergency. Social Media sites, such as Twitter or Facebook, can offer busy managers quick support at their fingertips when these issues happen.
Express Glass, an expert glass repair company in West Palm Beach,is very excited about its 1000 post milestone. Property managers now have access to a company that excels in 24/7 broken glass emergencies on Twitter. In West Palm Beach, juggling several properties at once can be effortless with a quick link to professional glass repair and a quick information source like Twitter.
About Express Glass Repair and Board Up
Express Glass and Board Up Service Inc. is a family owned and operated glass repair company with more than 20 years of experience. Professional technicians and large variety of inventory make Express Glass the top commercial and residential glass repair company in West Palm Beach. If customers are looking for sliding door repair, or window replacement in West Palm Beach as well as emergency glass repair in Florida, please reach out to the company for a free estimate. If customers need a 24/7 emergency sliding Glass Door repair service in Miami or West Palm Beach, technicians are standing by. Technicians will handle any glass repair or replacement situation efficiently. Home or business glass repair is the company's main priority.
Express Glass Repair and Board up
http://www.expressglassfl.com/