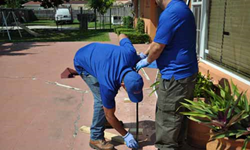 West Palm Beach locals enjoy a very upscale lifestyle along the Florida coastline. We understand that their homes and businesses may require special glass repair needs and wanted to express that on our website
West Palm Beach, FL (PRWEB) February 15, 2016
Express Glass & Board Up, a leader in sliding door repair in West Palm Beach, Florida, proudly announces new blog posts specific to the city. With coast issues of increasing concern, the company is focusing outreach to major cities in Florida such as West Palm Beach. Residents can read about sliding door repair issues tailored to distinct needs of the affluent community, subject to severe coast weather conditions.
"West Palm Beach locals enjoy a very upscale lifestyle along the Florida coastline. We understand that their homes and businesses may require special glass repair needs and wanted to express that on our website," explained Yaniet Santos, General Manager of Express Glass. "That's why we've created new blog posts that talk about sliding door repair and glass repair special to West Palm Beach residents as an example of coastal issues in South Florida."
To read the new blog posts about sliding glass door repair in West Palm Beach go to: http://www.expressglassfl.com/blog/tag/west-palm-beach/. Details about sliding door replacement and repair as well as 24 hour emergency glass repair are available, so the blog has both informative general issues and issues specific to those considering upgrades to their doors and windows prior to hurricane season, 2016.
West Palm Beach: A World Class Destination with Top Class Sliding Door Repair to Match
The community of West Palm Beach has a reputation for being a destination where the affluent vacation and live. Residents of West Palm Beach expect top-quality attention from all businesses serving the area. Sliding door repair is one of many services requiring specialized attention in the affluent neighborhood. West Palm Beach residents experience broken glass emergencies not typical for other areas. A service must offer the best sliding door repair to satisfy West Palm Beach demands.
Express Glass and Board Up has posted several blogs addressing sliding door repair tailored to West Palm Beach residents. Cracked estate windows may happen due to living on prime real estate along the Florida coastline. Shattered patio glass may happen from a golf ball due to living near a world-class golf course. A 24 hour sliding door emergency must be elevated to support affluent tastes. Express Glass ensures world-class West Palm Beach is provided with the kind of top-class sliding door repair expected.
About Express Glass Repair and Board Up
Express Glass and Board Up Service Inc. is a family owned and operated glass repair business with more than 20 years of experience. Professional technicians and the large variety of inventory make Express Glass the top glass repair service. If customers are looking for West Palm Beach sliding door repair or Ft. Lauderdale glass repair as well as glass repair in Delray Beach, please reach out to the company for a free estimate. If customers need a 24/7 Sliding Glass Door repair service in West Palm Beach or Boca Raton or Miramar, technicians are standing by. The company specializes in sliding glass door repair and window glass repair; Express Glass will handle any glass replacement situation efficiently. Home or business glass repair is the company's main priority.
Express Glass Repair and Board up
http://www.expressglassfl.com/