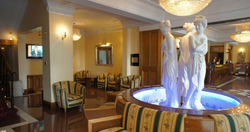 Affordable and Convenient Central London Hotel Location..
(PRWEB UK) 18 February 2015
London events in summer 2015 are promised to be a selection of outdoor summer concerts, festivals and exhibitions in London that will keep everyone busy. July 2015 events in London will be as diverse and plentiful as ever this year. There is no better time than now to visit Paddington London.
Wimbledon lawn Tennis Championship is the oldest tennis tournament in the world and the world's biggest-running and most celebrated tennis tournament. The tournament is considered the most important competition in the professional tennis calendar. With TV viewers of countless millions and more than half a million spectators attending the Tennis game to catch the action live.
Research has shown that thousands of tourists will be coming to London this year. It is expected that the amount of tourists coming in 2015 will be higher than the previous year. In 2013 7.9 million Tourists visited London in the first six months of 2013 and spending over £4.9 billion, a 12.4% increase compared to the same time last year. This year London is hoping to get a 15% increase compared to 2014.
Don't miss the football FA Cup Final in London in 2015. At Wembley Stadium, it's one of the sporting events of the year. The FA Cup is English Football's biggest competition and it will be played at London's iconic Wembley Stadium, brings the nation to a standstill and attracts millions of viewers from around the globe. Watching a moment of English football history from the stands at the iconic Wembley Stadium. It's an experience tourist will savour for years to come.
Ed Sheeran an English singer-songwriter returns this autumn to Wembley Stadium London to celebrate his upcoming tour.
Grammy nominated and two-time BRIT Award winner singer/songwriter Ed Sheeran is a truly artistic musician, and seeing him display this talent live is an assured great night. Sheeran said: "I can't wait to tour this new record; it's been a long time coming. Looking forward to touring the UK and Ireland once again!" it is expected to be one of the best concerts this summer.
Westpoint Hotel are expecting the number of bookings this summer to be higher than previous years as summer 2015 is expected to be bigger than 2014, Westpoint Hotel are expecting to provide to tourist with the best experience during their stay this summer.
For Tourist looking for a more stylish and modern hotel to stay in Paddington London at an affordable price. Westpoint hotel offer a more spacious interior with extra amenities and superior rooms. Including bed and breakfast buffet with hot and cold items offered.
Westpoint Hotel in Paddington offers easy access to London's top tourist attractions and landmarks including the Royal Albert Hall, Buckingham Palace, Kensington Palace, the Houses of Parliament, and many more.
Want to Book a hotel in London Paddington Westpoint Hotel is one of the most affordable hotels in Paddington with all rooms' well-furnished and equipped with en-suite showers.