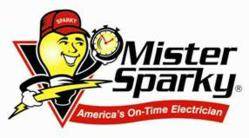 Seattle, WA (PRWEB) November 23, 2011
Nothing quite sets the mood like a dimmed light. This holiday season, Seattle electrician Mister Sparky is offering a "Buy 3, Get 1 Free" promotion on dimmer light switches. Aside from aesthetics, dimmer switches also have a number of other benefits.
Energy Efficiency
Aside from looking nice and creating a good environment, using a dimmer switch will save electricity. This is a great way to reduce bills and help reduce our country's energy consumption. For example, dimming the halogen lights by 25% will reduce the annual energy bill by $17.30. Even set at the highest brightness, a dimmer switch uses about 5% less energy than a simple on/off switch. Additionally, dimming the light will send less energy to a halogen bulb, enabling it to last up to 20 times longer than a bulb controlled by a standard light-switch.
Dimmer switches are also "future proof". Not only will dimmers work with traditional halogen blubs, they are also compatible with LED (Light Emitting Diode) and CFL (Compact Fluorescent Light) light bulbs.
Better Living and Work Environment
Not only will a home owner feel good when they see the savings in the electrical bill and reduced impact on the environment, but controlled lighting will also lead to a more calm and productive work environment. Many people suffer from frequent headaches and migraines, which can be further exasperated by bright lighting. Dimming the lighting in the home or office can help halt an advancing headache.
Seattle, West Seattle, Burien, and Federal Way area residents should contact Mister Sparky electricians to schedule a dimmer switch installation appointment to take advantage of the savings on dimmer switches. Mister Sparky will also be able to recommend other ways to save energy and money with simple electrical fixes.
About Mister Sparky – Greater Seattle Electrician
Greater Seattle's on-time Electrician happily servicing Seattle to Tacoma and everywhere in between, including: Des Moines, Federal Way and Auburn
###