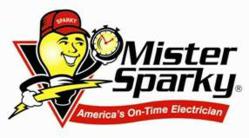 Seattle, WA (PRWEB) December 12, 2011
RED, a private company founded by local firefighters and University of Washington students; and Mister Sparky, West Seattle's #1 on-time electrician, have joined forces to give area residents the ultimate holiday gift: the peace of mind that comes with discovering and preventing potential fire and flood dangers inside the home.
The holiday season brings out the festive side of Puget Sound residents, but it also brings a lot of fire and flood hazards into their homes. Holiday light displays often include frayed wires, cracked sockets and overloaded circuits, resulting in 170 fires per year. Candles and menorahs flickering too close to curtains, wrapping paper and holiday displays result in 15,600 residential fires - most of them in December. Frozen water pipes damage 250,000 homes per year.
This year, Mister Sparky is a welcome addition to RED's holiday home inspection team. "Your home's electrical system is no different than your body or your car, it should be inspected by a professional at least once per year," said Wendy Lind, operations manager of Mister Sparky. "We are offering our services, free of charge, to as many area residents as possible this season. We want to catch electrical hazards before they can put a damper on the holidays."
Holiday Proof Your Home inspections combine the expertise of off duty firefighters and highly trained, certified electricians. Mister Sparky's portion of the inspection begins with a panel refresh: tightening screws, inspecting busses, remaking bad connections and checking breakers. Electricians will also test GFCIs for functionality and use canned smoke to test smoke detectors.
RED works with off-duty firefighters to check the placement and functionality of smoke alarms, carbon monoxide alarms, fire extinguishers and more. RED will deliver a 2012 Family Emergency Plan and inspect the home for common fire hazards. They will also show homeowners how to shut off their gas and water at the main valve.
This free service is available to residents of Seattle, South King and North Pierce Counties. Reservations are limited and will be honored on a first-come, first-serve basis. To take advantage of this opportunity, please call Mister Sparky at 206-246-7123 or RED at 888-557-5167.
About Mister Sparky
Mister Sparky, also known as Eagle Electric of Seattle, is a family owned and operated franchisee that has been serving Seattle since 1982. The company prides itself on providing the best quality and service in the industry and has received the Angie's List Super Service Award four years in a row (2007-present).
About RED
Founded by a local Firefighter and UW students, RED is a private company that brings the resources of trained off-duty firefighters into residential homes. RED's mission is to prepare families and individuals for unexpected emergencies. http://www.CountyRed.com
###