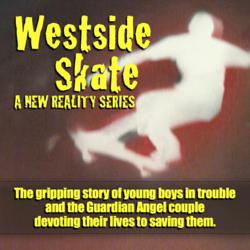 "There's only so much bad news you can take."
New York, NY (PRWEB) April 19, 2013
The TV pilot, titled "Westside Skate", tells the gripping story of a 30+ plus member group of young boys in trouble and the "guardian angel", heroic couple devoting their lives to saving them. Their hook? Skateboarding. The goal of the couple is to keep the boys off the streets, and away from the influences of the many violent, drug-fueled street gangs in the high-crime section of Albuquerque, New Mexico. Many of the boys come from broken homes or environments where drugs and alcohol are a constant. This ragtag group of boys who call themselves "The Westside Boyz" is held together and mentored by Gabe and Christine Espinosa, the hero couple who work tirelessly to keep the boys occupied with skateboarding.
Mr. Meyer feels that the public is completely exhausted with the tidal wave of bad news lately and that it is a perfect time to tell this uplifting story of a couple that is completely selfless and giving. "There's only so much bad news you take", Mr. Meyer says, "and I've got a wonderful, touching story to tell." Held back only by a lack of funds, Mr. Meyer now turns to Kickstarter.com to get the project off the ground.
John Meyer was first introduced to the story of this self-sacrificing couple nearly five years ago while working for another reality-based TV show. "As soon as I met Gabe and Christine, I knew they were special", Mr. Meyer says, "I've never met two people so giving and so compassionate in my entire life." Now, more than ever, Mr. Meyer is determined to tell this heartwarming story that, in his words, "deserves to be told". Westside Skate has a classic theme. It's a story of good versus evil. A hero couple conquering tragedy. The "hard-knocks" lives that the boys lead at home is softened by the abundant compassion they experience with Gabe and Christine.
Since money has been his only stumbling block, Mr. Meyer has turned to Kickstarter.com, an online "crowd-sourced" funding platform. Crowd-sourced funding is when a large number of people, referred to as "backers", each pledge a relatively small amount of money towards a project in exchange for specific "rewards". The rewards, in this case, might simply be a digital download or DVD copy of the eventual TV pilot episode of "Westside Skate". However, Mr. Meyer has also tried to get very creative by offering a large variety of rewards from t-shirts, hats and DVD's with the show's logo to one-on-one personal experiences whereby a "backer" can meet the heroes Gabe and Christine as well as the Westside Boyz and can even be profiled as part of the show.
Mr. Meyer has found the Kickstarter process quite humbling. Kickstarter project creators are encouraged to post a video explaining their project and appealing directly to viewers as to why they should pledge money. "It's definitely humbling looking right into the camera and asking for money." Mr. Meyer says, "I've never really been comfortable being on camera......Just comfortable holding one!"
John Meyer has well over 20 years of experience as a cameraman and Director of Photography for some of the most popular shows on television. He has been instrumental in helping produce CBS's "Undercover Boss", ABC's "Wifeswap", TLC's "Four Houses" and "Mindfreak" with Illusionist Criss Angel for A&E. Mr. Meyer and his company, MeyerMix Productions, is currently seeking to develop several new TV shows, including Westside Skate. He now seeks to utilize his unique talents, experience and contacts to bring this amazing story to life. More information can be found at http://www.westsideskate.tv or by viewing the Westside Skate project profile at the Kickstarter.com website.