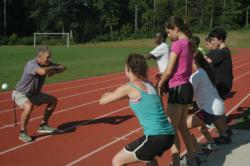 We're really fortunate to have a coach of Bill Stull's caliber at Westtown. Students are so excited about taking Westtown cross country to the next level.
West Chester, PA (PRWEB) September 07, 2011
Legendary cross country coach Bill Stull brings over three decades of expertise to the Westtown School athletics as he joins the cross country coaching staff this September. Student runners at Westtown, a Quaker pre-K – 12 college preparatory school in West Chester, PA, already look forward to a winning season with Coach Stull, one measured not only in medals and championships, but also in terms of growth and conditioning, teamwork and the opportunity to surpass their own personal bests.
Stull comes to Westtown with broad experience coaching runners at a variety of levels, including high school, collegiate and world-class competitors. After graduating from Widener University in Chester, PA, he began his coaching career in 1976. In 1979, as a coach at Sun Valley High School in Aston, PA, Stull began working with a young runner, Gina Procaccio. Gina became the Pennsylvania State Champion in the 800m in 1982 and went on to become a world-class runner who is now head coach of Villanova University's acclaimed women's cross country program, where she incorporates the philosophy and techniques she first learned from Stull into her own coaching.
In 1987, Bill Stull coached the fastest high school girls' 4x800m relay team in the country, and in the 1990s, he coached two more outstanding women runners at Sun Valley: Kim Fisher and Shannon Grady. Fisher won 3 gold medals at the 1992 PIAA state outdoor championships in the 1600m, 3200m and as anchor of the 3200m relay. Grady, who was part of that winning 3200m relay team as a junior, was – as a senior – the third-ranked 800m runner in the country. She also held the fifth-fastest time nationally in the mile and was ranked in the top five in the USA in the 1500m. Both Kim and Shannon won the High School Championship of America in the 1500m race in back-to-back years at the Penn Relays in Philadelphia. After completing college and graduate school, running and coaching throughout, Grady worked as an exercise physiologist for the USOC at the Olympic Training Center in Chula Vista, CA. She later came to Westtown as boys' cross country coach, and in an ironic twist, saw her former coach succeed her in that same position!
Bill Stull ushered these and many more women and men into outstanding college and world-class running careers. Stull says, "I can take athletes where they want to go," dedicating himself to each and every runner on the team, regardless of ability, so long as the student is committed to the sport. His training routine develops athletes over several seasons in order to avoid injury and burnout. Along with physical and mental stamina, he helps students build a framework for life-long health and well-being. This kind of coaching is especially consistent with Westtown's school-wide promise of excellence in academics and athletics that ultimately inspires graduates to live good lives.
Westtown School, founded in 1799 and still situated on its original 600-acre campus in the heart of Chester County, PA, has one of the most beautiful and challenging cross-country courses in the region. The course itself, along with Westtown's long history of outstanding coaching, has attracted many talented runners to the sport. Athletic Director Jeannette Cooper says this about Stull, "We're really fortunate to have a coach of Bill's caliber at Westtown. Westtown's cross country program is already strong, and our runners have deep reservoirs of potential that he'll be able to tap as he works with them. We've added several large invitational meets to our schedule this year – including Briarwood and Paul Short – and students are just so excited about taking Westtown cross country to the next level. With his experience and enthusiasm for the sport, Bill's going to go the distance with our students."
###