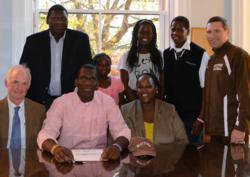 Daniel has always been as excited about his teammates' successes as he has about his own. It's part of what makes him such a special young man.
West Chester, PA (PRWEB) November 10, 2011
Daniel Ochefu, a nationally-ranked forward who plays for Westtown School and is one of the most sought-after recruits in high school basketball, signed a letter of intent yesterday with Villanova University.
At 6'10" and 240 pounds, Ochefu is ranked 40th in ESPN.com's "Super 60" for the Class of 2012. He was also recognized as High School Player of the Week in February 2011 by Sports Illustrated. A solid rebounder and shot blocker, Daniel averaged 16 points and 12 rebounds during his junior year at Westtown, a college preparatory school founded by Quakers in 1799 in West Chester, PA, propelling the team to the Friends School League finals.
Over the course of Ochefu's double-digit scoring and rebounding career at Westtown, the boys' varsity team garnered a 52-25 record, including 4 non-conference tourney titles and a trip to the FSL playoffs in his sophomore year. As captain of this year's team, Daniel is determined to win the FSL and state titles. But according to Coach Seth Berger, Daniel's first priority is helping his teammates succeed. "He doesn't hog the ball, and as good as he is, his focus is still on the team."
"One of my favorite Daniel moments was when he was actually on the bench. I replayed it over and over in our film session, so the kids could see what it means to be a teammate. In a game during Daniel's freshman year, his teammate Longji Yiljep – who now plays for Brown – had a two hand tip dunk off an offensive rebound. As the play was happening, Daniel stood up, leaned back, and started going crazy for Longji, waving a towel. He turned into the biggest fan in the gym. Daniel has always been as excited about his teammates' successes as he has about his own. It's part of what makes him such a special young man."
Daniel Ochefu was born in Maryland and now lives in Exton, PA. His mother, Elizabeth, is from Cameroon, and his father, Hassan, is from Nigeria, where the family lived for the 3 years before Daniel entered high school at Westtown in 2008. He first met Seth Berger at a Sixers summer camp, and was impressed with Berger's priorities.
Daniel says, "Seth could have the best basketball team in the United States if he wanted to, but he chooses to recruit players who are good students and people, as well as good basketball players. He teaches them the importance of hard work and reminds them that after a while, the ball stops bouncing."
Daniel Ochefu's goal is to be the best basketball player – and person – he can be. He wants to play for the NBA, and given what Seth Berger calls his great "basketball IQ," he's got what it takes. Berger adds, "Daniel has an uncanny sense of the court and what to do next. A lot of that's innate, but much of it also comes about because of his strong work ethic. He spends all his free time practicing, watching videos, studying the game."
But as a scholar athlete at Westtown, Daniel also knows the importance of being a strong student, which is one of the reasons he chose Villanova. Berger says, "Daniel's really smart – he could be a doctor or a lawyer if he wanted to."
Ochefu adds, "I chose Villanova because I really liked Coach Wright and his staff. I thought they were really professional with the way they handled things. And I liked the fact that the university is near my family and Westtown."
"The Westtown community has been lucky to have a young man as special as Daniel Ochefu here for his high school years," Berger says. "He has made a difference in this community, and he'll continue to positively impact the lives of those around him, wherever he goes."
###