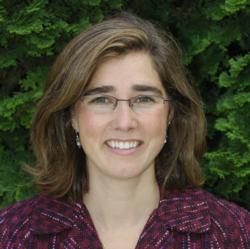 If students complain about writer's block, I say just do it. It's the 'butt in the chair' approach to writing. If you wait for inspiration, it's not going to happen. It's hard getting started but it almost always pays off.
West Chester, PA (PRWEB) October 13, 2011
Ellen Jensen Abbott, Chair of the English Department at Westtown School, a Quaker college preparatory school in West Chester, PA, teaches literature and creative writing to high school juniors. And not only does she teach these subjects, she practices them, too.
Abbott's second young adult fantasy novel, The Centaur's Daughter, will debut October 15 with a signing at nearby Chester County Book Store. The culmination of a two-year process, the book's release is deeply satisfying for Abbott and, she adds, the process of writing it has made her a much stronger teacher.
Abbott was a relative late-comer to writing. With degrees in literature and education from Brown and Harvard, she began teaching at Westtown in 1993. She also served as Dean of Students and took time off to start a family before beginning her career as a writer. "I've been writing seriously for about 12 years now, but it didn't occur to me to pursue it earlier. First I had to grow up and gain the kind of confidence and perspective that comes with maturity. I had to really believe the stories I wanted to tell were worthwhile sharing with others."
Ellen Abbott channeled her own love of science fiction and fantasy – such books as The Chronicles of Narnia and The Lord of the Rings were inspirations – as she envisioned the magical land of Seldara. A third and final book in the series will come out in 2013, although she is not ruling out a companion book or books after that. The Centaur's Daughter is the sequel to Abbott's first novel, Watersmeet, published in 2009 to critical acclaim and earning recognition as an IRA Young Adult Book Award Notable and a YALSA Teens' Top Ten Nominee.
Both Watersmeet and The Centaur's Daughter are about Abisina, a young girl rejected for the color of her eyes and skin, and for her lack of a father. In The Centaur's Daughter, she plays a crucial role in unifying Seldara after finding the father she never knew in the legendary realm of Watersmeet. The books appeal to Abbott's target audience of "tween" girls in part because their gritty heroine deals with such timely issues as identity and diversity, prejudice and acceptance.
The lessons Abbott teaches her Westtown students about writing are all the more powerful because she walks the walk. "If they complain about writer's block, I tell them, just do it. It's the 'butt in the chair' approach to writing. You can't wait for inspiration: if you don't show up, it's not going to happen. It's hard getting started but it almost always pays off if you push through and get some words out. I also emphasize revising and rethinking. My first novel, The Child of Seldara, was rejected, but the editor who reviewed it helped me see how to build on its strengths and learn from its flaws. My next book - Watersmeet - sold to that same editor."
Westtown's curriculum of global competencies emphasizes authentic problem-solving and development of the kinds of sophisticated skills graduates will need for success in universities, the workplace and life itself. Wherever possible, the school connects students with people who engage in the kinds of work they hope to do via internships or initiatives such as the Senior Project, a self-designed independent study that allows them to pursue a passion. But there are also a number of faculty members – like Ellen Abbott – who act as mentors by modeling their own professional interests.
According to Westtown Head of School John Baird, it helps young people to see teachers following their own passions. "Westtown's faculty exemplify the very things they expect of students. They lead by example when they demonstrate a willingness to engage in creative risk-taking – publishing, performing, exhibiting and conducting research. And sharing their own creative processes with students brings such a level of credibility to what could otherwise be an abstract exercise. There are many more Ellen Abbotts among the teachers at Westtown, and our students are the clear beneficiaries."
###