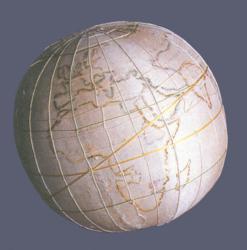 As they work through issues that arise from having multiple perspectives, international and American students get authentic experience in skills like problem-solving, collaboration and adaptability that are highly valued in today's workplace.
Westtown, PA (PRWEB) September 08, 2011
Salaam! Huanying! Willkomen! Bienvenido! Merhaba! Hwangyong-habida! Welcome!
These are welcome words for the 28 new international students arriving this week on the campus of Westtown School, a Quaker college preparatory school founded in 1799 in West Chester, PA. Long before global education was widely embraced elsewhere, Westtown offered it. Today, the school's rich curriculum centers on global competencies that prepare graduates for work and life in the 21st century. And key to the success of Westtown's program is a strong cohort of international students – approximately 20% of the Upper School student body, representing 18 nations on 5 continents – whose very presence supports the school's mission of creating a diverse community where students live and learn together. In coming to Westtown to get an American education, these young people contribute to that educational experience.
Westtown students have long benefited from robust language and cultural exchange programs in South America and Europe. Students regularly travel to sister schools in Asia and Africa, including Tamagawa University in Tokyo, and Heritage Academy in Ghana, founded in 2004 by a Westtown teacher. Each year, twelfth graders develop culminating Senior Projects that often involve international travel, and Westtown is one of only 4 American member schools in the prestigious organization known as Round Square, a world-wide consortium of like-minded institutions that collaborate on international student service projects.
But just as important as going out into the world, according to Head of School John Baird, is the world that comes to Westtown courtesy of its international student body. Westtown, a pre-K – 12 school with Lower, Middle and Upper divisions, offers day and boarding starting in 9th grade, and boarding becomes a requisite part of the program for 11th and 12th graders, even for students who live nearby. One of the key benefits of the boarding experience at Westtown, says Baird, is the way it intentionally teaches young people how to be responsible members of a larger community. International students add a critical dimension to that dynamic.
"As they work through roommate issues or conflicts in the classroom that arise from having multiple perspectives on the issues they're discussing, our international and American students get authentic experience in skills like problem-solving, collaboration and adaptability that are highly valued in today's workplace. They have a real crucible to develop sophisticated communication skills and test their leadership. Westtown's international students come from different places – and I don't just mean geographically – so the process of recognizing we live in a diverse world becomes an integral part of a Westtown education. The deep understanding that comes from all our students working and living together benefits everyone."
Distinctive features of Westtown's international student program – and ones that benefit all the school's students – include the intentional pairing of international and American students as roommates in the dormitories. Also unique is the "host family program" in which all international students have American hosts, volunteers who are part of the Westtown community and commit to involving and including these students in their families and offering them a glimpse of American culture.
The learning that ensues goes both ways. It can be structured: each December, for example, students in the International Student Organization host a Festival of Cultures, where they showcase food, games, artwork, music and other traditions from their native countries. Asian students and their American friends cook mouth-watering dishes and deck the school in red in celebration of the Lunar New Year.
But cross-cultural learning is often more subtle. "It was pretty powerful to have an American Jewish student talking directly to a Palestinian student from Ramallah about peace in the Middle East," said a teacher of an advanced history class, Holocaust to 9/11. A Westtown parent noticed how much her Chinese host student enjoyed being part of a large family, since he didn't have brothers and sisters. Entire families have made international connections, visiting each other's countries, and Westtown students have been able to get deeply involved in another culture thanks to opportunities afforded by the families of their classmates.
Young people and their families at international student orientation exhibit mixed emotions: excitement, anxiety, the joy of finding new friends and sadness at the impending departure of the parents. But on both sides of the equation, there are welcomes – welcome to the students who have traveled far to study at a new school, and a welcoming appreciation for the value they bring to the educational experience of all Westtown students.
###