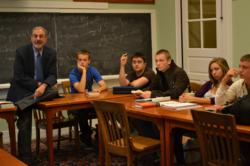 What Westtown graduates come away with is the ability to think critically about all sides of a problem as complex as 9/11.
West Chester, PA (PRWEB) September 20, 2011
Schools and teachers across the United States have struggled in the aftermath of 9/11 with how to teach students about the events of that day. Immediate reactions to the terrorist attacks were visceral and emotional, but over time more thoughtful responses have emerged. At Westtown School, the response has been as simple – and complex – as making the effort to understand in very profound ways the "whys" of what happened. Teachers at Westtown, a Quaker college preparatory school in West Chester, PA, have designed an upper level history course entitled "From Hiroshima to 9/11," where students explore the causes – and effects – of a day that changed the world.
According to Westtown's Assistant Head of School Joe Marchese, developer of the course, the goal is helping students gain critical awareness of global politics – particularly those of the Middle East – from the end of WWII to the present. Grasping the realpolitik, or power politics, behind the terrorist acts of 9/11 is so important, he believes, for the next generation of leaders to devise alternative solutions to world problems. "They've got to have a deep understanding of current events, and the Hiroshima class helps them connect the dots between history and what's happening today." In the very act of attempting to make sense of a post-9/11 world, students learn skills – among them analysis and critical thinking, the ability to communicate, collaboration with diverse others, assessing multiple points of view, asking the essential questions and how to effect change – that will empower them to be successful leaders of a better world.
Courses like Hiroshima to 9/11 reflect Westtown School's global focus. Classes throughout the school emphasize competencies that prepare students for the future by encouraging them to work on authentic, real-world problems. In a class like Hiroshima to 9/11, for example, students read books and articles with multiple perspectives about the same topic. In a seminar setting, they analyze journal articles and other sources with a non-Western bias, such as Al Jazeera, the Arab-language news network. Some students have opportunities to travel to Palestine and Israel, where they meet with young people and adults on both sides of the conflict, and a faculty member currently on sabbatical in the Middle East is developing connections with schools in the region that will make this kind of interaction possible for all Westtown students. One junior in the class last year was so inspired, according to Marchese, that he proposed an independent study course for his senior year – which has been approved by the Upper School faculty – to study the governments and political systems of the Middle East. In light of the Arab Spring, his focus has morphed with the new developments.
Student assessment in the Hiroshima to 9/11 class is both novel and highly effective in preparing future-ready graduates. A retrospective project requires them to communicate clearly and effectively some aspect of their experience as 17- and 18-year-olds who are growing up in in the shadow of terrorism, in an era where there is increasing global unrest and questioning of authority. The assignment yielded powerfully creative responses: poetry, political cartoons, a report on the experiences of veterans in WWII and subsequent conflicts, photo essays, children's books, documentary films, and a comparison of song lyrics written during the Vietnam War and post-9/11 wars in Afghanistan and Iraq. At the end of a unit on the Israeli/Palestinian conflict, students are asked to develop their own diplomatic solution. Suggesting their enthusiasm for the class, some who traveled to the West Bank last spring came back to school asking for the opportunity to revise their earlier solutions.
Marchese describes the final exam for Hiroshima to 9/11 as "something like group Jeopardy." Working in small groups, students pose – and then answer – an essential question that will allow them to show the interrelationship of the Cold War, the Israeli/Palestinian conflict, the War on Terror, and the "Post-American World," as described by journalist Fareed Zakaria in his 2009 book. "Westtown, as a Quaker school, is rooted in the Friends peace testimony," Marchese says, "but students come to us with many different backgrounds and beliefs. That's great, and in our classes we value each student's voice and ideas as a welcome part of the debate. What's important – and what Westtown graduates come away with – is the ability to think critically about all sides of a problem as complex as 9/11. It's in the engagement that the real learning takes place."
###