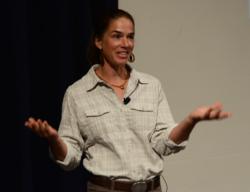 We believe in a 'life-size' education. Helping seniors get into great colleges is important, but it's not where a Westtown education stops. We equip students with skills for the global workforce - and for leading productive lives.
West Chester, PA (PRWEB) October 19, 2011
Kit DesLauriers, ski mountaineer and the first person to ski down the Seven Summits, spoke to middle school students at Westtown School on Friday, October 14, about following dreams – and setting the goals that allow them to come true.
In a presentation that was part motivational and part travelogue, DesLauriers began by asking students to write down all the things they want to do in their lives. Then she asked them to list the ones they want to do in the next 5 years. DesLauriers explained she uses this process in her own life: meeting the challenge she dreams about accomplishing, such as skiing down the highest mountains on all 7 continents, requires both the dream and then putting together the nuts-and-bolt plan to make it happen.
According to Middle School Principal Nancy van Arkel, Kit DesLauriers was a perfect fit with Westtown's overarching educational vision. "We believe in a 'life-size' education," van Arkel said. "Helping seniors get into great colleges is important, but it's not where a Westtown education stops. Beginning in Lower School, we start equipping children with skills they'll need when they emerge into the workforce. And we also help them develop the competencies they need to be good people and good citizens who lead productive lives. So when Kit talked about the steps you have to take and the personal qualities you need to make things happen, it was really powerful for our kids. Making a goals list like the one she showed them is a life skill, and along with her presentation, it couldn't have been a more compelling lesson."
Westtown School, a Quaker college preparatory school for students pre-K – grade 12 in West Chester, PA, offers students a global education. Global in scope as well as being international, Westtown's program teaches the kinds of skills and competencies Kit DesLauriers referenced in developmentally appropriate ways to every child in the school.
For example, DesLauriers emphasized the importance of communicating effectively in order to write winning grants that fund her expeditions – but it's even more important, she said, to listen carefully and speak clearly when your life depends on it. She talked about the hours and hours she spends doing research before an expedition, and how she has to consider the big picture as well as the details. On a recent trip to the Arctic Wildlife Refuge, it wasn't enough to know when weather would present the perfect moment of opportunity for safe travel. She also had to pinpoint the brief time between polar bears coming out of hibernation and migrating to the Arctic Ocean to hunt and the slightly later time when grizzlies emerge. When a student asked why, she laughed and said it was because you wouldn't want to meet either one of those bears in the wilderness!
DesLauriers also told Westtown middle-schoolers about the importance of teamwork and collaboration, especially in life and death situations. And sometimes, she added, it's important to reevaluate goals in light of new priorities. Her first attempt to summit Mt. Aconcagua in Argentina was scrubbed – even though it wasn't clear she'd be able to try again – because she helped a fellow climber with life-threatening altitude sickness descend to a lower base camp. And she spoke passionately about sustainability as she explained the concept of "leave no trace," showing slides from Antarctica of collecting spittle each time she brushed her teeth for later transport off the continent. Learn from people in other cultures, she said, such as the Kenyans who had little material wealth but were rich in happiness.
Westtown 6th and 7th graders in the audience were rapt listening to Kit DesLauriers. Afterward, they had many questions. One student asked what DesLauriers was thinking about when she skied down Mt. Everest. Her answer was instructive. There were a million details filling her mind, she said, leading up to the very moment of lift-off. And then, a blank. "I think about nothing…my mind is pristine. I'm in the moment completely." That's the reward, she implied, for all the hard work that goes before.
Kit DesLauriers's visit to Westtown was made possible by Trail Creek Outfitters, a local outdoor clothing store, in conjunction with The North Face Speaker Series, which showcases the world's top outdoor athletes.
###