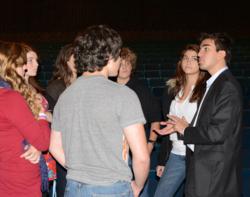 People think business students are all motivated by greed and want to make a lot of money. That's definitely not true. I'm convinced for-profit businesses have a responsibility to do more by helping solve society's problems. I want to make a difference.
West Chester, PA (PRWEB) October 27, 2011
When recent graduates return to their high schools, it's usually to reconnect – and maybe to party – with friends still at the school. Not so for Matheus Lara Pereira, a 2011 graduate of Westtown School who is now a freshman at the University of Pennsylvania's Wharton School of Business. Matt is a young man with a calling, and the reason for his return to Westtown on October 21 was to share a passion for eliminating world poverty through socially responsible businesses and business practices.
Matt presented an assembly program to students in Westtown's Upper School on PoverUP, a grassroots student initiative that educates young people about microfinance, connects them with for-profit institutions committed to social business through internships and networking, and offers opportunities for microfinance investment. He urged Westtown students to get involved by forming their own PoverUP club.
Eric Mayer, Upper School principal and co-teacher of the advanced religion class Ethics in Business which Matt had taken at Westtown, explains that the school's mission of inspiring and preparing graduates to be stewards and leaders of a better world fosters the kind of educational environment where young people are expected to make a difference in the world by developing values and skills that empower them to address real-world problems.
Founded by Quakers in 1799 in West Chester, PA, Westtown's long history of advocating for social justice is consistent with the school's emphasis on authentic engagement with global issues. "What we're doing and teaching now is in harmony with our centuries-old tradition – and it also breaks new ground in highly innovative ways," Mayer says. "When Matt took Ethics in Business, he was shocked to learn that half the world's 6 billion people live in poverty, but he was energized by the possibility that for-profit businesses could help. Here's a kid who's really going places – the advanced math courses he took at Westtown allowed him to place into junior and senior level math and engineering classes as a freshman at Penn, for heaven's sake – and he wants to do it at scale, with the audacious goal of lifting 100 million people out of poverty through organizations like PoverUP! How cool is that?"
At Westtown, Matt began his fast-paced presentation with a lesson on basic economic theory. Contrasting the ideas of Milton Friedman, a 1976 Nobel Prize winner in economics, with those of Bangladeshi banker Muhammad Yunus, winner of the 2006 Nobel Peace Prize, Matt explained the sole fiduciary responsibility of traditional business is to make a profit for shareholders. But Yunus, in his Seven Principles of Social Business, holds corporations to a higher standard, challenging them to overcome poverty; achieve financial and economic sustainability; become "dividendless" organizations; reinvest profits; act with environmental integrity; offer market wages to all workers; and, most important, take joy in the work. PoverUP is built on these same principles, Lara said.
A native of Brazil who came to the United States as a high school sophomore, Matt was accepted at top New England and Delaware Valley boarding schools. He chose Westtown not only for its excellent academics but also because the school emphasizes global competencies informed by morality. In his Ethics in Business class, for example, Matt was inspired by guest speakers who are themselves social business practitioners. Jay Coen-Gilbert, co-teacher of the class with Eric Mayer, was a founder of And1, the athletic clothing powerhouse, and is now a partner in B Lab, the nonprofit organization that certifies B Corporations in much the same way TransFair certifies Fair Trade coffee or USGBC certifies LEED buildings. There are now over 450 B Corps, a diverse community of businesses with the unifying goal of redefining success in business – away from corporate profit, and toward social responsibility.
"People think business students are all motivated by greed and want to make a lot of money. That's definitely not true," says Matt Lara. "With 900 million people today living in hunger, I'm convinced for-profit businesses have a responsibility to help. Because you know what? It helps the world and it helps you. Yunus's 7th principle is take joy in what you do. That's what PoverUP and I want, and our joy will come from making a difference."
# # #