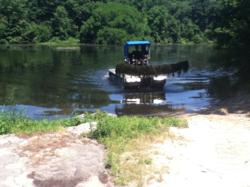 Environmental sustainability is at the heart of Westtown's mission, and it plays out in both curriculum and institutional operations like the pesticide-free lake management plan.
West Chester, PA (PRWEB) August 17, 2011
Westtown School partnered with Princeton Hydro, an environmental consulting firm, to harvest aquatic plants in the school's lake on August 11 and 12. A multi-functional amphibious tractor known as a Truxor conducted the harvest, which is part of a larger initiative at Westtown to restore and maintain the lake without using aquatic pesticides and other chemicals.
Head of School John Baird said the environmentally-friendly aquatic harvest is consistent with Westtown's ongoing commitment to the environment in both its academic program and operational practices, pointing to the school's sustainability mission statement which calls for creating a community that preserves and protects ecological systems. The Quaker testimony of earth stewardship has been a core value at Westtown since its founding in 1799, and making sustainable land use a priority in recent years has led to decreased use of chemical fertilizers and weed control products on campus lawns. Non-chemical management of the lake is very much a part of the school's broad sustainability initiative. "Educating for sustainability is a key element of our curriculum," Baird said, "and if we expect students to act on what they've learned by making sustainable choices in their own lives, then it's important to model what we teach in all our institutional practices."
Changes in Westtown Lake over the past decade due to increased amounts of stormwater runoff led the school to develop a multi-faceted restoration plan. With a matching grant of $17,000 from the Pennsylvania Lake Management Society, Westtown, a Quaker pre-K – 12 college preparatory school in West Chester, PA, has begun implementing a series of strategies to reverse the excess plant growth resulting from this pollution.
The plan's first step involved installation of three artificial floating islands in the campus lake. The "islands," made of recycled plastic and planted with native vegetation this past June by students in Research Ecology, an advanced biology course at Westtown, help control the growth of algae and other nuisance plants by absorbing phosphorus, a key nutrient found in fertilizers. Aquatic nuisance plants, fed by large quantities of sediments and pollutants coming from the surrounding watershed, have the potential to choke lakes and kill fish if left untreated.
The Truxor harvest is the second step of Westtown's lake management plan. A technician from Princeton Hydro operated the flat-bottomed tractor-boat with caterpillar treads, using joysticks to maneuver it around the lake. The Truxor was developed in the late 1990s by the Swedish firm of Dorotea Mekaniska AB, and it features different attachments for cutting, collecting and disposing of aquatic weeds. According to Dr. Fred Lubnow of Princeton Hydro, most aquatic harvesters are designed for bodies of water deeper than 4 feet, but the Truxor was designed to operate in shallower water, making it ideal for use in the small ponds and lakes of Pennsylvania. The 2-day harvest at Westtown Lake, the second one of the summer, was expected to remove 9,000 pounds of algae, yielding 8 pounds of phosphorous. Although that may not seem like much, Lubnow said, it has the capacity to generate nearly 3000 cubic yards of aquatic biomass!
In accordance with terms of the grant, Westtown's aquatic harvest was also planned as an educational demonstration of the environmentally-friendly Truxor technology. Representatives from the PA Lake Management Society, the PA Department of Environmental Protection, the Chester-Ridley-Crum Watersheds Association and nearby townships attended, as did members of Westtown's teaching faculty and neighbors who live near the lake. Visitors, who could smell the decaying vegetation being brought to the surface and hear the chug-chugging of the Truxor even before it came into view, watched as the little water-tractor went about the business of chopping, scooping up, and depositing the biomass on the shore. Westtown Lake covers approximately 14 acres, and the Truxor can harvest one acre per day, so the recent two-day harvest focused on the parts of the lake used for fishing and canoe access.
Westtown Lake is a central feature of the school's 600-acre campus. It is open to the greater West Chester community, and visitors often fish and hike along the lake's perimeter. Created in 1912, the lake has a long history of recreational use that also includes canoeing, swimming and ice-skating.
###