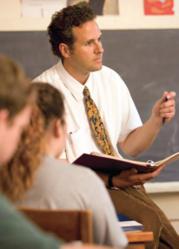 Our students manage projects, facilitate discussions, test hypotheses, analyze information and communicate effectively to different audiences - all because these expectations are an integral part of Westtown's curriculum.
(PRWEB) January 31, 2012
A study released January 25 by the Social Science Research Council highlights what most Americans already know: the job market for today's college graduates is bleak. But there's also a glimmer of hope. The right preparation can make a difference, it suggests, even in an austere job market. An education that includes demanding liberal arts coursework, the ability to think critically, and especially, an emphasis on essential life skills is a predictor of success. And these are the very same things Westtown School, a pre-K – 12 college prep school in West Chester, PA, guarantees its high school graduates.
Westtown's emphasis on global competencies gives young people essential lifelong skills, according to Upper School Principal Eric Mayer. "Thanks to our boarding program, 100% of our graduates have experienced residential life with domestic and international peers. 100% have participated in sustainability initiatives. 100% are critical thinkers with open minds, problem solvers who ask hard questions, and confident self-advocates."
Mayer continues, "Our students manage projects, facilitate discussions, test hypotheses, analyze information, and communicate effectively to different audiences. And it's all because these expectations are an integral part of Westtown's curriculum."
In a New York Times op-ed piece, Richard Arum, author of "Academically Adrift: Limited Learning on College Campuses" and lead author of the SSRC study, says college students often lack these essential skills. "Many colleges and universities are implicated in the difficulties that graduates are facing, since not only did they fail to ensure that college students experienced rigorous academic coursework associated with the development of higher order cognitive skills, but, more troubling, they typically have abandoned responsibility for shaping and developing the attitudes and dispositions necessary for adult success."
The SSRC study found students who performed well on the Collegiate Learning Assessment, which measures how well post-secondary institutions teach higher-order competencies, were less likely as young adults to be unemployed, live with their parents, or have substantial credit card debt. But, says Arum, the study showed disturbingly high numbers who were on the verge of leaving college with few analytical or critical thinking skills. And yet these areas are precisely the ones in which Westtown students are especially well-equipped – even as incoming freshmen. 95% of recent Westtown grads said they were prepared to handle the workload of rigorous courses at selective colleges and universities, and 97% believed Westtown classes and teachers taught them to think critically.
How do demanding academics plus global competencies translate into usable skills? One young man's experience in a Westtown religion class is revealing. "The discussions and readings helped me bring the concept of social change into my life as something necessary, realistic, and obtainable. The final paper/project also prepared me for college more than anything else. The discipline of writing, researching, interviewing and just getting it done was really amazing. It definitely boosted my confidence and showed me I could actually accomplish such a big project."
Civic engagement, one predictor of college-to-workforce success in the SSRC study, is an example of a global competency emphasized at Westtown. Director of Teaching and Learning Margaret Haviland explains why. "We believe so strongly in civic responsibility because our mission is to prepare graduates to be stewards and leaders of a better world. We want them to understand global issues so they'll be able to meet global challenges. So alongside their academic coursework, we emphasize service, travel, and experiences like 'culture crossing,' and collaborative problem-solving."
Significantly, 97% of the Westtown graduates report that their education left them well-informed about world politics, religions, and current events. Furthermore, 83% said they volunteer for causes they believe in, with similar numbers making financial donations to the causes. Not surprisingly, the SSRC study also found a strong relationship between civic engagement and overall academic performance.
Westtown graduates could clearly see the added value of their own education as they compared themselves with the freshman cohort at their colleges and universities. They were ready to hit the ground running as they entered, and they were confident they'd be well-prepared to succeed in the transition to an independent life four years later. An alumna from the class of 2006, now an engineer with Boeing, tells how it turned out. "Westtown gave me a great foundation in science. But maybe even more importantly, it gave me skills I use every day in my work now: being able to collaborate with my colleagues, express my ideas in speaking and writing and critically evaluate all kinds of information."
###