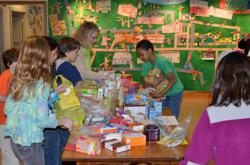 Children understand the importance of food, and empathy for others bubbles up easily when they realize not everyone has enough food.
West Chester, PA (PRWEB) January 23, 2013
Lower School students at Westtown School, a pre-K – 12 Quaker college prep school in West Chester, PA, honored Dr. Martin Luther King Jr. through service to people in their community. Students made "breakfast bags" to give to local organizations that supply food to those in need.
Each grade, from the Primary Circle to 5th grade, brought in donations – boxes of raisins and packages of granola bars, containers of applesauce and envelopes of instant oatmeal, hot chocolate, tea bags and juice boxes – that could be bagged and distributed to ensure others will have healthy breakfasts. The bags from this project are going to a school in Kennett Square for disadvantaged children in the before- and after-school programs through a joint effort with the Chester County Food Bank.
Projects like the breakfast bags in Westtown's Lower School are part of an historic and coordinated school-wide commitment to helping students develop not only keen minds, but also intelligent hearts and the courage to act. Founded in 1799, the school has a long tradition of service as an integral part of a Westtown education. There are many opportunities for students of all ages to engage in meaningful service within and beyond the school community. In some cases, such as in the recent school-wide book drive to help rebuild libraries damaged in Hurricane Sandy, service initiatives are inspired by students themselves.
Through student organizations such as Habitat for Humanity, the Philanthropy Club, and Service Network, and in fulfilling a service requirement for graduation, young people take part in a variety of meaningful service projects over the course of their Westtown education. Service is integrated into the daily curriculum of all three divisions, informed by Quaker testimonies of simplicity, peace, integrity, community and equality.
In a visit to the school in April 1989, Coretta Scott King said to Westtown students, "An individual can be a tremendous force for transformational and social change...Non-violence chooses love over hate. Non-violence has an unrelenting faith in the future. It has to start someplace. Maybe it will start with your generation." Mrs. King's words are echoed in Westtown's mission of inspiring and preparing graduates to be stewards and leaders of a better world. As Lower School Principal Kristin Trueblood says, "Children instinctively understand how to make the world a better place by starting with their own needs. They have to begin to reach out to others from where they are. Children understand the importance of food, and empathy for others bubbles up easily when they realize not everyone has enough food. Whether you are in pre-K or in 5th grade, you understand food."
Talking about the breakfast bags she helped assemble, Isabel, a 3rd grader, simply said, "It made me happy to do something good for other people. I liked being able to share love."