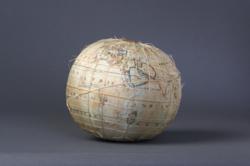 Ever since it was founded in 1799, Westtown School has emphasized both academic rigor and grounding in the skills and competencies needed for success in life.
(PRWEB) February 14, 2012
A February 12 lecture by Archivist Mary Brooks highlighted Westtown School's long tradition of providing graduates with both rigorous academic instruction and grounding in the practical skills needed for success in college, work and life. Brooks spoke on historic needlework crafted by young women who attended Westtown in the early 19th century, but noted that while the skills and tools may have changed, today's emphasis on 21st century skills is part of a continuous thread in a Westtown education.
Westtown School has a long history of preparing young people to meet authentic, real-world challenges. Westtown, a pre-K – 12 college prep school in West Chester, PA, was founded in 1799 by Quakers, and from the very beginning the school provided not only an excellent academic education, but also grounding in the practical competencies young people would need – for life.
Examples of such practical preparation from an earlier time are on display at the Chester County Historical Society in the exhibit, "In Stitches: Unraveling Their Stories," which highlights needlework of the early 19th century from both the Westtown and CCHS collections. In a lecture at the Historical Society Sunday, February 12, Westtown School Archivist Mary Brooks spoke about the Westtown samplers and their place in the education of young women at the school, which, from the time of its founding, emphasized the useful and practical along with reading, writing, ciphering and other studies.
Westtown is America's oldest coeducational boarding school in continuous operation since its inception at the end of the 18th century. In accordance with the Quaker belief in the equality of all people, girls and boys studied the same academic curriculum from the very beginning. While the boys studied such useful skills as surveying, girls practiced sewing, samplers, pin cushions and other handiwork until sewing class was eliminated from the curriculum in 1843.
Among the pieces in the CCHS exhibit are 12 silk, handmade globes, a type of needlework unique to Westtown School. Girls such as Hannah Gibbons, who attended Westtown in 1817 and 1818, made both terrestrial and celestial globes to accompany their study of geography and astronomy. These needlework pieces are clear evidence of the historic importance Westtown has placed on understanding the natural world. And a familiarity with the world at large was – and still is – part of the school's mission. Making the globes was a very practical exercise, too, resulting in a globe that could be used as a study tool. Judith Tyner, a professor of geography at California State University Long Beach has suggested that these fabric globes made by Westtown girls should be recognized as being among the first American-made globes.
Today's skills and tools have changed, thanks to technology, but Westtown retains its commitment to complementing a rigorous program of academics with an emphasis on readiness for the global workplace. Now the curriculum emphasizes preparation in ethical and cultural awareness, analytical and scientific thinking, leadership and collaboration, creativity, communication and information literacy. At Westtown, these have become the useful and practical currency of the 21st century, the skills graduates will need for success in college, work and life.
###