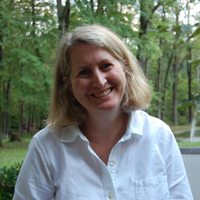 Kristin's creative vision of leadership and her love of children and a deep understanding of how they learn are utterly compelling.
West Chester, PA (PRWEB) January 26, 2012
Westtown School is pleased to announce the appointment of Kristin Trueblood as its next Lower School Principal, effective July 1, 2012. Trueblood emerged from a competitive national search as a visionary leader whose experience and philosophy make her an excellent match for Westtown, a pre-K – 12 college prep school founded by Quakers in 1799 and located in West Chester, PA.
In announcing Trueblood's appointment on January 24, Westtown Head of School John Baird said, "The Search Committee and I found Kristin's creative vision of leadership, her love of children and deep understanding of how they learn, and her genuine enthusiasm for working with both children and adults in ways that enhance community utterly compelling. I am delighted that Kristin will be leading our Lower School next year!"
Kristin Trueblood will assume leadership of a Lower School already known as a regional leader in innovative education. As the first independent school in the Delaware Valley to adopt the Singapore Math Program, Westtown has seen standardized test scores rise as students become true mathematical thinkers. The school emphasizes reading and writing, with daily workshops modeled on the Reading and Writing Project of Teachers College, Columbia University. Daily art and physical education classes, experiential Spanish instruction and participation in the renowned Olweus anti-bullying curriculum are among other innovative program elements in Westtown's Lower School.
Kristin Trueblood brings to Westtown a legacy of creative leadership from Springside Chestnut Hill Academy in Philadelphia, where she is currently interim Director of Lower School Admissions for Boys. She helped develop a Mandarin program for kindergarteners and guided a team of teachers to build a physics and engineering lab for young children, a program that includes outreach to local schools and a partnership for professional development with Tufts University's Center for Engineering Educational Outreach.
A graduate of Kenyon College, Trueblood also holds a masters in educational leadership from the University of Pennsylvania. Prior to her current position at Springside, she taught in the school's primary grades, mentored beginning teachers and served as a science specialist.
Trueblood's philosophy of education is closely aligned with Westtown's beliefs, rooted in the Quaker testimonies, that there is that of God in each person and that the questions, ideas and experiences of even the smallest children are worthwhile. "Whether I am teaching or leading or doing both, I hold an image in my head that motivates my actions," Trueblood says. "I want children to hurry happily to school each morning to see friends and connect with adults who believe in them because they have unfinished intellectual business."
###