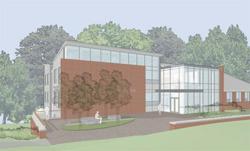 Westtown's educational vision stresses critical thinking and collaborative problem-solving. Realizing the vision requires a science building that supports it.
West Chester, PA (PRWEB) January 17, 2013
A $13 million Science Center expansion and renovation project was approved by Westtown School's Board of Trustees on January 11, 2013. Construction will begin in March for the LEED-certified building, according to Board Clerk Jonathan W. Evans, a 1973 graduate of the Quaker pre-K - 12 college prep school located in West Chester, Pennsylvania. Under the ambitious construction timeline, students and teachers will be in the new space by January 2014.
Westtown's existing science building will be remodeled and a new wing added, doubling the amount of usable floor space.The new Science Center will have six labs in the new wing (bringing the total number of labs to nine), and renovations to the existing structure, erected in 1976, will include dedicated space for Westtown's award-winning Robotics Program, now in its 10th year, as well as more room for independent research by students.
The new facility, designed by Todd Woodward of Philadelphia-based SMP Architects, specialists in sustainable design, incorporates optimal classroom/lab spaces, the most current technology, a dedicated robotics/physical science room, and a large room for long-term independent research. The structure itself is planned as a learning model with purposeful "green" elements that include geothermal heating and cooling, rainwater runoff management and harvesting, and heat from heat pumps recovered for hot water. A monitoring system will communicate real-time performance of the building's resource-saving features, and classes will be able to analyze a monthly "building dashboard." The Science Center will be at a minimum LEED silver certified, consistent with Westtown's commitment to sustainable construction practices for all new campus architecture.
The new Science Center is part of Westtown's wide-ranging strategic plan with a focus on enhancing curricular initiatives in the STEM disciplines - science, technology, engineering and mathematics - and becoming a national leader in science education. Plans are under way for the Westtown Science Institute where students and teachers can conduct in-depth research over 3-week periods. Colleges offer similar programs, but Westtown will be one of very few independent schools to do so.
Westtown was a pioneer 12 years ago in the Physics First movement, inverting the traditional order of high school science instruction, beginning with physics and progressing to chemistry and finally biology. Since then the school has seen increased demand by students for more science coursework at the advanced level. In college and university, Westtown graduates major in STEM disciplines at a rate of over 25% versus 16% nationally; for female graduates, the rate is twice that of their national counterparts.