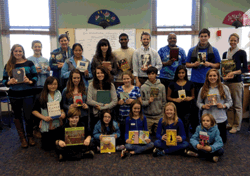 We believe young people need three things: keen minds, intelligent hearts and the conscience to act. Westtown graduates have impressive knowledge, faith in themselves, and a commitment to use what they've learned to help others.
West Chester, PA (PRWEB) December 13, 2012
Westtown School, a pre-K -12 college preparatory school in West Chester, PA, is known for "growing good people," as one parent described it. Starting at a young age, children are taught to act on their values and beliefs by developing projects that benefit others, like Tuesday's "fun-raiser" sponsored by the student chapter of Habitat for Humanity. Teachers lead by example and create opportunities for students to tap into their own innate benevolence. They encourage young people to become aware of the world and seek out ways to make it better.
Westtown's Habitat for Humanity organization came up with a novel way to raise money: build your own gingerbread house. The school's student center turned into Santa's workshop Tuesday as "elves" made donations to the student Habitat group in exchange for "building supplies" – graham crackers, icing and candy – they used to construct confectionary works of art. Contributions support Habitat construction projects throughout the rest of the year.
Westtown has a service requirement for graduation, but most students exceed the required 40 hours. Students take the lead in organizing all the clubs and many of the service initiatives for their class, grade or division. As with the Habitat for Humanity chapter, they identify community issues and then go into problem-solving mode.
Student leaders in the Middle School, for example, organized "Holidayze" to benefit the Hurricane Sandy relief efforts of the Red Cross. Candy Cane Day and Holiday Dress-Up and Dress-Down Days – in which students donate money for candy canes and the privilege of wearing Santa hats and reindeer headbands or coming to school in pajamas and sweats – are age-appropriate projects that provide real service to those in the Philadelphia area.
In a related effort, all of Westtown gathered recently in community groups – "families" that stay together until the seniors graduate – composed of children from the Lower, Middle and Upper Schools, as well as faculty and staff members. At the suggestion of students on the planning committee for the November 29 event, everyone arrived with a book to help rebuild school libraries in New York and New Jersey that were destroyed by the hurricane. At the end of the day, over 1,600 books had been collected. Afterward, in the traditional Quaker meeting for worship, students of all ages rose to speak about how fortunate they were, expressing gratitude for their own blessings and for how good it made them feel to help others.
A sampler of other holiday service initiatives at Westtown includes a contribution by the senior class of 460 pounds of pies to the Chester County Food Bank and the Lower School's gifts for Cradles to Crayons, a Philadelphia-based organization that gives elementary school children who are living in homeless or low-income situations essential items they need to thrive. And Metal Moose, Westtown's Robotics Team, traveled to Girard College on December 1 to demonstrate their robot and work with younger students in the FIRST Lego League. The team's mission includes not only technology and engineering but also leadership and community service.
According to Head of School John Baird, service to others is an important part of a Westtown education. Quaker values of simplicity, peace, integrity, community, and social activism permeate the academic program. "It's simply who we are. Our mission is inspiring and preparing graduates to be stewards and leaders of a better world. We believe we need to cultivate three things in our young people: keen minds, intelligent hearts and the conscience to act. Westtown students graduate with impressive knowledge, with faith in themselves, and with a commitment to use what they've learned to make a difference for others."