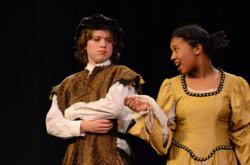 Hearing students quoting Shakespeare as they walked down the halls made my day. These powerful lines will be with them for the rest of their lives.
Westtown, PA (PRWEB) March 16, 2012
Beginning February 27, Westtown Middle School morphed into "Shakespeare Central." Regular classes gave way for an entire week to a series of specialized workshops on the Bard and the Elizabethan era. Shakespeare would have been in his element as students traveled by horseback, worked in guilds making stained glass, constructed working siege engines and cut pretty capers in Elizabethan dances. But blogs? Tweets? Fakebook pages? LOL, Will Shakespeare!
Utilizing social media was just one of the ways teachers brought relevance to the topic as they made Shakespeare come alive for middle school students of the 21st century at Westtown, a pre-K - 12 college prep school in West Chester, PA. Workshops on calligraphy, Elizabethan games and sports ("what Shakespeare did when he wasn't busy writing"), and food made learning fun.
Westtown Middle School teacher Lisa Cromley said, "Students feasted on food from Shakepeare's kitchen. They loved the idea of those elaborate Elizabethan food spectacles: marzipan sculptures, purple rice balls, green bread, and fish (of the Swedish candy variety) swimming in aspic, which for us was Jello."
Another Westtown teacher, Megan Rose, said the active, engaged and integrated learning that took place in the Shakespeare Festival mirrors real life. Students not only read about transportation in the time of Shakespeare; they also learned to ride horses and care for them. The line from "Macbeth," "Something wicked this way comes," took on new meaning as they learned about people of a pre-scientific world who saw witchcraft and the supernatural as explanations for life's mysteries.
Young people learned new skills during the Shakespeare Festival. Making paper, sewing banners with heraldic designs, dancing courtly dances, painting murals, juggling and learning to parry with swords were but a few of them. And throughout it all, students in the "London Herald" blogged, tweeted, filmed and photographed, creating their own annals of the Festival.
Students also performed condensed versions of three of Shakespeare's best-loved plays. Each grade collaborated as they helped build the set, hang lights, build props, design costumes, apply makeup, and rehearse – for two months – to breathe life into these 500+ year old plays. "A Midsummer Night's Dream," "Twelfth Night," and "Taming of the Shrew" were staged by the young Westtown thespians.
"Hearing students quoting lines from the plays as they walked down the halls made my day," said Judy Asselin, director of "A Midsummer Night's Dream," the 6th grade play. "These powerful lines will be with them for the rest of their lives."