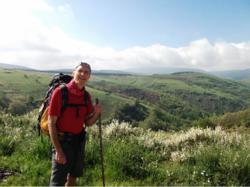 This is a story of hope. The metaphor of walking is to move on. I chose this time of year because I want to follow the spring north, because to me it's about openings and possibilities. I like the idea of walking to the rising sun.
West Chester, PA (PRWEB) April 23, 2012
It's a walk unlike any other. On Tuesday, April 24th, Denis Asselin will walk out his front door and embark on a pilgrimage – a 500-mile walk from Philadelphia to Boston with numerous stops along the way. The pilgrimage – "not a trip or a hike, but a journey," says Denis – is in honor of his son Nathaniel, who took his own life last year after a 13-year battle with body dysmorphic disorder (BDD), a disease related to obsessive-compulsive disorder (OCD).
Body dysmorphic disorder is a crippling brain disease that involves preoccupation with a perceived defect in appearance. Individuals with BDD experience excessive shame, anxiety, and often depression about their appearance. No one is certain of the exact causes of BDD, although according to the the Mayo Clinic, evidence from neurochemistry and brain imaging studies suggest the disease has a neurobiological basis. Genetic and environmental components have also been suggested. Denis' goal is to spread awareness of BDD and raise money for the International OCD Foundation.
Members of the Westtown School community will walk alongside Denis – some in actuality and others as virtual pilgrims, following his progress on the website http://www.walkingwithnathaniel.org – in solidarity and in memory of Nathaniel. Westtown, a Quaker college prep school in West Chester, PA, has many ties to the Asselin family, and its students, teachers and alumni were devastated by Nathaniel's death: Nathaniel himself was a member of the Class of 2005 and subsequently a teacher in the Middle School; Denis is a former French teacher; his wife, Judy, is a graduate and currently the school's Sustainability Coordinator; and sister Carrie graduated in 2007.
The Chester County Quaker community will also support the walk with a "Singing Us Forward" concert on April 21, shortly before Denis embarks on his journey. The concert is at the London Grove Friends Meeting, 500 West Street Road, Kennett Square, PA, at 7pm. The concert is open to the public.
The road to Denis' current journey began right after Nathaniel's death in April 2011. Pondering "how to make sense of the senseless," Denis happened on some advice from the Buddhist teacher Thich Nhat Hanh: "To deal with grief, walk!" So Denis walked. He walked around his neighborhood and then, last May, he spent two weeks walking the Camino de Santiago in Spain with Carrie and Judy. The Camino is a historic pilgrimage route of almost 500 miles across the north of Spain to the Cathedral of Santiago de Compostela in northwestern Spain, where tradition has it that the remains of the apostle Saint James are buried.
As he reached the end, Denis says, "I just had a lot of walk left in me. It felt grounding to me and the more I walked, the more grounded I felt."
Denis' journey from West Chester to Boston, a kind of "Camino de Nathaniel," came out of the Spanish experience. He will follow the trail of Nathaniel's life, from his school days to the clinics and medical facilities where he was treated, to places where he worked. The pilgrimage ends in Boston on June 6th at the International OCD Foundation. Along the way, Denis will talk at gatherings of caregivers and professionals, sharing his experience as a parent of someone with BDD, putting a face on the disease.
Nathaniel first showed signs of the disorder when he was 11 years old in 5th grade. In the years between 5th grade and Nathaniel's death at age 24, his parents worked assiduously to find treatments for him. It was a roller coaster life, but there were always bright points. "He was so intelligent, perceptive, gentle, and loving," says Denis. "He was the 'Pied Piper' of Westtown," where he worked in the Middle School after-care program and was a cross country coach. Denis believes that there was a positive side to Nathaniel's intense sensitivity. "It was also a gift. He was so aware of the kids, where they were, and what they were feeling."
"This is a story of hope," says Denis. "The metaphor of walking is to move on. I chose this time of year because I want to follow the spring north, because to me it's about openings and possibilities. I like the idea of walking to the rising sun."