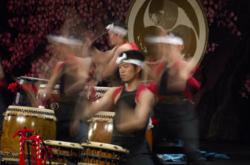 The arts are a wonderful way to engage children in thinking about how people all over the world express themselves and their fundamental beliefs.
West Chester, PA (PRWEB) March 22, 2012
This year marks the National Cherry Blossom Centennial, which commemorates 100 years of the "gift of the trees." In 1912, the people of Japan sent 3000 flowering cherry trees to the United States as a gesture of friendship. The trees were planted around the Tidal Basin and Jefferson Memorial, and their delicate pink and white blooms have since come to symbolize the arrival of spring in the nation's capital and elsewhere.
Westtown School, a pre-K–12 Quaker college prep school with a global frame of reference located in West Chester, PA, joins this springtime celebration of international harmony by presenting Tokyo's Tamagawa University Taiko Drumming and Dance Troupe on Saturday, March 31. Westtown is an early stop on the group's 2012 North American tour, en route to the Philadelphia's Subaru Festival and Washington, DC, where it will perform as part of the National Cherry Blossom festival.
The Westtown Tamagawa performance, at 7pm in the Barton-Test Theater on the Westtown campus, is open to the public. This event is not only family-friendly but also free, unlike other Philadelphia-area Tamagawa Taiko performances, some of which charge admission. More information about location and parking can be found on the school's website.
Westtown has sister-school relationships with schools around the world, and Tamagawa in Japan is one of them. Offering K-12 and university classes, Tamagawa has an especially strong dance and drumming program, ranked as one of the top in the world, and Westtown has been fortunate to be a performance venue for the group for more than a decade. Other ties between the two schools include student exchanges for Westtown Middle and Upper School students and an emphasis on Japanese language and culture throughout Westtown's curriculum.
"Taiko" literally means "big drum" in Japanese. Taiko drumming has been part of Japanese culture for hundreds of years. Its roots lie in the countless temples and shrines scattered all over Japan where the drums are played in religious festivals and ceremonies. For players and audiences alike, Taiko is an intensely musical and physical experience. As interpreted by the Tamagawa group, it combines thundering rhythms with folkloric dance and vibrantly colorful costumes.
Westtown School educates young people for life in a diverse world, and performances like those by the Tamagawa Taiko ensemble reinforce important student learning in profound ways as they build empathy and curiosity about cultures and people. Director of Teaching and Learning Dr. Margaret Haviland explains, "The arts are a wonderful way to engage children in thinking about how people all over the world express themselves and their fundamental beliefs. It's not enough for our students to have a strong academic background. They certainly get that at Westtown, but we go further; we give them experiences and tools to act on their knowledge, empowering them to assume ethical leadership in the global community."
A unseasonably warm winter has resulted in an early flowering of cherry trees, and there's no better way to celebrate the arrival of spring than by joining Tamagawa's Taiko Drumming and Dance Troupe at Westtown School on March 31.