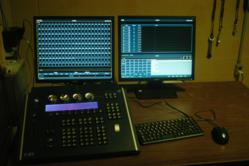 Upgrades insure that Westtown School students who are interested in theater will be exposed to the latest technology in the industry.
West Chester, PA (PRWEB) September 06, 2012
Significant renovations to Westtown School's Barton-Test Theater were completed this week, just in time for the start of the 2012-13 school year. Installation of a new rigging system, manufactured by Electronic Theater Controls (ETC), utilizes cutting-edge technology that puts Westtown, a preK - 12 private college prep school in West Chester, PA, at the forefront of innovative theater design.
The Westtown system is so new that only three other theaters in the United States have adopted it thus far. The upgrades insure that Westtown students who are interested in theater will be exposed to the latest technology in the industry.
The ETC system replaces the counterweighted rigging that was part of the theater's original construction in 1969, which used ropes and pulleys to move curtains and scenery. By contrast, the new system uses electric hoists designed specifically for theater use, mounted directly to the ceiling beams of the stage and operated by a touch screen computer console. The panel provides the operator with a host of information, allowing for exact placement of each batten. In addition, rigging moves can be preprogrammed and initiated using a "go" button, similar to the process used in computerized light boards. Up to four hoists can be operated at one time by a single operator.
Consistent with Westtown's educational emphasis on environmental sustainability, virtually every component of the old system was recycled. The 20 new hoists include four "electrics" with wiring for lighting fixtures as well as data wiring that controls such intelligent features as color scrollers, moving lights and LED fixtures. Variable speed hoists are capable of lifting up to 1000 pounds at speeds of up to 180 feet per minute.
Most important, the new rigging system includes numerous safety features. Each hoist monitors its own weight, and a sudden change - indicating the batten has snagged - triggers an immediate shutdown. The control panel is key-locked and offers multiple password levels to control access. Additional safety elements include several emergency stops on the stage itself.
The performing arts are a vibrant part of Westtown's academic program in all three divisions, and the school's theater is in constant use for rehearsal and production of student plays, musicals, instrumental and choral concerts and dance performances. The school also hosts the annual Shoemaker Events Series, bringing in outside speakers, films and performing artists. The first two events of the 2012-13 season are a concert by Sierra Leone's Refugee All Stars on September 9 and a parent lecture by Dr. Wendy Mogel, author of "Blessing of a Skinned Knee" and "Blessing of a B-" on October 3.
Instruction in technical theater is also part of Westtown's drama program, and in addition to the 20 new electric hoists, students who participate in scenic arts design benefit from two newly installed manual counterweight units, so they can learn to use both systems.