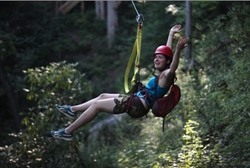 The last few weeks have brought massive bookings — just when the snow left the eastern seaboard
Oak Hill, West Virginia (Vocus) March 31, 2010
With record snowfall having blanketed the East Coast for much of the winter, reservations agents and staff at West Virginia's largest outdoor outfitter are already seeing the effects on a population that's been cooped up inside for too long.
In a twist, the pent-up demand has volunteer labor and resort customers vying for the same limited lodging space.
ACE Adventure Resort reservations manager Brandi Warwick said that, following winter storms that seemed they would never end, the phone lines are beginning to erupt.
"The last few weeks have brought massive bookings — just when the snow left the eastern seaboard," Warwick said.
Located in southern West Virginia, ACE draws guests from across Canada and the United States. The resort, which offers whitewater rafting, zip-line canopy tours, mountain biking, rock climbing, ATV tours, horseback riding and more, was recently featured by the Travel Channel as North America's largest outdoor resort.
Warwick said that guests typically book trips well in advance of their spring, summer or fall vacation, but that trend appears exaggerated this year. The 1,500-acre resort offers deluxe and rustic cabins as well as camping for guest lodging, accommodating hundreds of people on any given day.
"If bookings keep coming in like they have in the last few weeks, we will probably fill our cabins for the summer, give or take a cabin here or there," she said.
In addition to a rising volume of interest, the outdoor vacation destination is seeing interest in typically quiet times of the year.
ACE Adventure Resort marketing director Beth Gill said the surge in bookings is even taking up lodging space she would normally give away. Each spring, Gill said, ACE invites mountain biking and hiking enthusiasts to help in readying the resort's 30 miles of on-property trails. The trail maintenance event typically takes up two weekends in April.
"There are some large groups of college students that I think are eager to get outside and have some fun after a long winter at school, and they made their spring break plans with ACE," Gill said. "The groups are large enough that they took up most of the cabins I would give the volunteers on one of the trail maintenance weekends. We'll have to reschedule that one."
Gill said interested volunteers are signing up quickly for the still-scheduled annual Trail Maintenance Days event, April 10-11. She said ACE volunteers posted a record turn-out for the two 2009 volunteer weekends and she expected this year's sign-ups to vie for a new record.
###