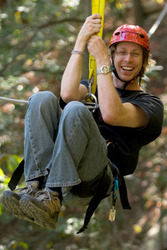 Our zip line canopy tour is now our best selling activity next to rafting
Oak Hill, WW (Vocus) April 19, 2010
ACE Adventure Resort has seen sales of its zip line canopy tours rise significantly, and expects even more visitors this year when it adds the longest, fastest and highest single zip line in the state. The resort also expects to see its 10,000th visitor take a canopy tour this summer.
The canopy tours allow guests to glide through the tree canopy more than 50 feet above the forest floor, where they ride a series of zip lines linked by tree platforms and cliff-tops while taking in surrounding scenery. Speeds reach up to 35 miles per hour.
The newest zip lines, the eighth and ninth for ACE, will include a line that is more than 1,200 feet long and hundreds of feet in the air. The new line will cross and recross the Rush Run Canyon. Resort officials said the updates will make it the only canyon rim zipline with a 1,000-foot view into the New River Gorge, and that the launching points will use land-based A-frames to eliminate potential damage to trees that traditional canopy construction can cause.
The numbers of guests who took advantage of the tours skyrocketed from the 2008 to the 2009 season, going from 1,821 to 4,618, with numbers for 2010 expected to eclipse previous years.
"Our zip line canopy tour is now our best selling activity next to rafting," said Brandi Warwick, Reservations Manager. "It brings a different scope of customers to ACE that specifically want to do this activity. There is such a huge cross section of guests that do this. And it has become a draw for locals as well. People in the area are realizing what an amazing resort we have in their own back yard."
Canopy tours began in 2007 as a unique offering for the area and include some major differences that set it apart from tours offered by other companies.
"We were the first canopy tour in West Virginia and the response has been overwhelming," according to Jerry Cook, one of ACE's owners. "What is special about ours is the gravity breaking system. It allows you the freedom to enjoy the lush views of the Gorge and the New River 1,000 feet below without having to focus on the hand brakes that some systems use.
The resort doesn't want to stop there, though, and will expand the system this year and in upcoming years.
"Our plan is to double the length of the existing tour and add side-by-side lines so more than one person can zip at a time," Cook said.
Other area adventure outfitters have added canopy tours to their offerings in recent years due to overwhelming popularity.
ACE Adventure Resort is a 1,500 acre commercial outdoor wilderness park located in the New River Gorge, in Fayette County, W.Va., that had 37,924 whitewater rafting visitors in 2009. ACE is the largest adventure resort in North America and was listed among the Travel Channel's Top 8 Most Extreme Resorts for 2009.
###