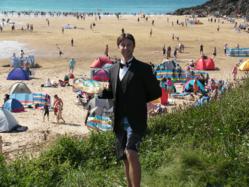 "A one-stop shop for expanding your horizons, upgrading your aspirations and stretching your senses" - BBC Travel Presenter, Simon Calder
(PRWEB UK) 24 August 2012
Whether it is an unseasonal summer shower or the gentle patter of autumn rain, many people each year find themselves staring out of a luxury holiday cottage window thinking, 'if only…'. Well, thanks to a new activity concierge service from AdventureTemples, those days are over – in Cornwall and Devon at least.
The Adventure Butler Service connects guests at over 1000 cottages in the region, to local experts, who can set up over 50 inspirational activities and experiences that are just as good on a wet day, as in the height of summer. Those who have already booked their 2012 accommodation need not worry. The service's phone line is open to all visitors to the South West, in this, its inaugural year.
AdventureTemples CEO, Rob Pendleton, explains: "With just one call, your Adventure Butler leaps into action, checking out the options and putting together a bespoke package to save your holiday. There is something for everyone. Inspire your mind with country cookery, fine art and photography classes. Challenge your body with indoor climbing, flowrider surfing and home fitness classes. Rejuvenate your spirit with cottage Yoga classes, sea cave meditation sessions and mobile massages. Parents can even drop their kids off at a stable crèche, to pet and ride the ponies and learn livery skills, while they escape for valuable 'me time'. Whatever your needs, we are up to the challenge!"
Simon Calder, BBC Travel Journalist, has described AdventureTemples as "A one-stop shop for expanding your horizons, upgrading your aspirations and stretching your senses", and with activities from £20 to £2000, the Adventure Butler Service has is something to suit every taste and budget.