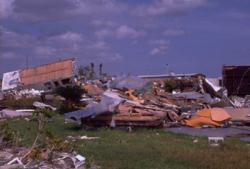 This is the most cost-effective way to enter the field of adjusting
Harpers Ferry, WV (PRWEB) June 10, 2011
In light of the recent disasters of the last few months in Alabama, Massachusetts, and Missouri, WeTrainAdjusters has announced the creation of their CAT JumpStart program (http://www.wetrainadjusters.com/jumpstart), which helps first time adjusters receive their property adjuster license and prepare to handle claims. This program has been designed to prepare adjusters for the upcoming hurricane season in Florida as well as other catastrophic events. To begin this program WeTrainAdjusters has bundled their two popular programs: Florida Professional Property Insurance Adjuster (PPIA) Licensing and Designation program (http://www.wetrainadjusters.com/adppia.html ) and Catastrophe Adjusting Skills and Techniques (http://www.wetrainadjusters.com/CourseDetails?recordID=14) into a package called "Jumpstart Your Adjusting Career". This package will help students obtain their Florida adjuster license quickly and is priced below $300, which is 20% less than the price of the individual courses.
"Given what has happened in Florida in recent years and what has been going on around the country in the last three months, the need for trained property adjusters is staggering." says Scott Hutton, Training Director for MindCross Training, the company that developed WeTrainAdjusters. "This is the most cost-effective way to enter the field of adjusting, but you want to make sure you get the best online training and you want it in a timely manner."
Timeliness is important when dealing with the thousands of people and millions of dollars in losses that happen so quickly. Adjusters need to be prepared for the complexities involved in such a voluminous undertaking and they need to expedite the procedure. The online course package is tailored to fast-track the enrollee to a career in helping people recover from life-changing events. "We want to enhance the number of quality adjusters," says Hutton, "by offering the best training at the most affordable price. By creating the JumpStart program we can be confident that students that complete the CAT JumpStart program are prepared and able to serve the victims of horrible circumstances caused by these storms."
About WeTrainAdjusters
WeTrainAdjusters is an insurance-focused area of MindCross Training. Founded in 2001, MindCross Training is a training development company focused on providing various types of cost-effective training and training services. MindCross is currently working with partners in the insurance industry to provide adjusters with the best training available. MindCross is an authorized Continuing Education (CE) provider in Texas and Florida. Additional information can be found at http://www.MindCross.com
###