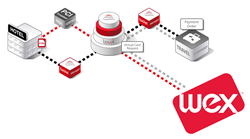 WEX Europe has entered into an international agreement with Voxel Group, a global leading supplier of electronic transactions systems to the hospitality and travel industries
London (PRWEB UK) 20 January 2015
WEX Inc. (NYSE: WEX), a leading provider of corporate payment solutions, today announced that WEX Europe has entered into an international agreement with Voxel Group, a global leading supplier of electronic transactions systems to the hospitality and travel industries.
The long-term relationship established by the agreement is based on the integration of WEX's Virtual Payments Solution into the Voxel-owned baVel electronic billing platform that communicates directly with hotel property management systems. baVel's world leading position in the provision of electronic invoices and WEX's unique and world leading portfolio of Virtual Credit, Debit and Prepaid corporate payment solutions are utilised by a wide variety of travel companies, such as tour operators, online travel agents and travel management companies. The combination of the WEX and Voxel solutions accelerates the delivery and receipt of hotel invoices by automatically sending these at the relevant point in business-as-usual processes (e.g., at customer check out). This enhanced process enables automatic validation of invoices and payments to be processed in real time allowing travel companies to improve the profitability of hotel relationships.
The combined WEX Europe and Voxel service offering enables travel and hospitality businesses to:

Trigger early and prompt receipt of hotel and supplier invoices
Capture relevant value-added tax (VAT), local tax and detailed service information to help streamline invoice approval
Pay global suppliers securely and without any additional fees
Automate payment reconciliation directly impacting profitability
In addition to announcing the agreement, WEX Europe and Voxel will be launching the proposition at Fitur, the International Tourism Trade Fair, in Madrid commencing on January 28, and further showcasing the combined solution at the Travel Technology Europe Show and the Business Travel Show, which are commencing on February 25 in London.
Myles Stephenson, managing director of WEX Europe said, "We are excited to be working with Voxel and integrating into the baVel solution globally. Our virtual payment solution provides travel companies with a number of potential immediate benefits, such as increased profitability and better cash-flow management and reduces the complexity of global supplier payments. This relationship will strengthen baVel's leading position in the travel and hospitality industry and build on WEX's stature as a global leader in payments."
Xavier Ginesta, CEO of Voxel Group said, "The alliance with WEX Europe represents a major breakthrough in our business model, as it will allow us to exploit synergies and leverage our respective customer bases by integrating electronic billing and electronic payments into a one-of-a-kind closed loop solution that will turn baVel into a true eSettlement platform. We are elated and eager to explore the new business opportunities and range of benefits that this new road will open up to our customers."
About Voxel Group
Voxel Group is the world's leading provider of electronic billing solutions in the travel industry, with presence in 100+ countries and a trading partner network of over 400 travel companies (i.e. OTAs, TMCs, tour operators, travel agents and incoming agents) and more than 40.000 hotels. baVel (Voxel Group's ebilling platform) has become the key component that allows our partners generate huge savings in their AP and AR departments by streamlining the invoice to pay cycle. Voxel Group has also fostered the adoption in the industry of the Nature Friendly Billing stamp (http://www.naturefriendlybilling.com), an ebilling-driven ecofriendly initiative geared at protecting and preserving the environment we all travel in. For more information on Voxel Group, please visit http://www.voxelgroup.net.
About WEX Europe
WEX Europe is a leading provider of physical and virtual commercial payment solutions issued for global acceptance with MasterCard® and Visa. With a strategic focus on the travel industry, our market leading virtual payment solutions offer prepaid and credit funding options. Our prepaid business payment solutions help businesses of all sizes to maximise profitability and reduce cost by transforming how they manage payments to employees, suppliers and customers. We also deliver fuel card processing solutions for private label and closed loop networks. In 2012, CorporatePay was acquired by WEX Inc. and has been integrated with WEX's existing operations in the UK and the combined business is now operating as WEX Europe. For more information on WEX Europe, please visit http://www.wexeurope.com.
About WEX Inc.
WEX Inc. (NYSE: WEX) is a leading provider of corporate payment solutions. From its roots in fleet card payments beginning in 1983, WEX has expanded the scope of its business into a multi-channel provider of corporate payment solutions representing 9 million cardholders and offering exceptional payment security and control across a wide spectrum of business sectors. The Company's operations include WEX Bank, Fleet One, Evolution1, WEX Australia, WEX New Zealand and WEX Europe, as well as a majority equity position in UNIK S.A., (Brazil) and WEX Europe Services (England). WEX and its subsidiaries employ more than 1,900 associates. For more information, visit http://www.wexinc.com.
News media contact:
WEX Europe
Riina Sulonen
riina(dot)sulonen(at)wexeurope(dot)com
+44 (0) 20 8080 9336
WEX Inc.
Jessica Roy
Jessica(dot)Roy(at)wexinc(dot)com
+1 207 523 6743
Voxel Group
Angel Garrido
angelg(at)voxelgroup(dot)net
+34 609 220 639