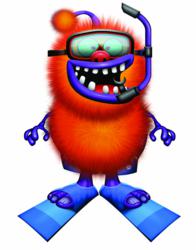 Westport, CT (PRWEB) May 15, 2012
Though they put a smile on a child's face, WEXY Bags were born of serious concerns Two Moms on the Go, LLC founders Carie Connell and Tracey Ross faced as they parented their own children. Carie's son was born with gluten intolerance and a host of food allergies. Research and education led her to make excellent choices about what foods to feed her child, but she was left unimpressed by her packaging options. She partnered with Tracey – another parent concerned with excellent, organic nutrition -- to spearhead the concept of not only making great food choices, but of creating smart packaging that would be inspiring and fun for all kids. And that would make them want to eat what their moms packed.
And so the monsters were born: four delightful, funky fellows, Sammy, Scout, Bailey, and Dusty, whose mission is to make snacking on good things healthier – and fun. Sporting shaggy fluff and vibrant hues, they each have a tale to tell about some special aspect of nutrition. From healthy snacks to gluten free to raw foods, the monsters explore some of parents' major food concerns and keep kids engaged and amused with their highly relatable stories. When the bag tells a tale, it's difficult not to be excited about what's inside. And with their bright, silly design and colors, WEXY Bags stand up to prepackaged junk foods with pizzazz.
WEXY Bags wow in other aspects as well. They give responsible, interested, concerned parents everywhere a smart alternative for packaging that never-ending stream of snacks! WEXY Bags are BPA-free, biodegradable, disposable, recyclable, and re-usable. Packaged in 100% recycled materials in the US, they offer the convenience of plastic, with eco-sensitivity in mind. Filling with a mess-free food? Just shake and re-use. Messy snack? Dispose without worry. Designed with tiny hands in mind, WEXY Bags are ideally sized for that handful of raisins, cluster of blueberries, or pint-sized trail mix. Perfect for little monsters everywhere.
With the onslaught of summer activities from day camps to swim time to play dates to family outings and vacations, Connell and Ross anticipate a monstrous welcome for WEXY Bags' funky friends. Early rave reviews from parents and grandparents alike show that WEXY Bags are well-received and loved. And because summer fun is so short … these two moms are thrilled to think about kids going off to school carrying with them their best summer friends. It's all part of the plan to nourish their kids – and others' – with wonderful foods in wacky packaging that makes them excited about eating good things. That's a whole lot accomplished in a little bag. WEXY Bags, for lunch, munch, and more. Available at http://www.wexybags.com and through Amazon.com.