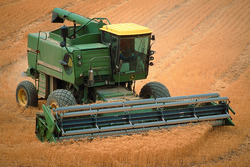 Traders noted heavy buying of corn by investment funds, which picked up an estimated 20,000 contracts during the trading day.
(PRWEB) October 8, 2009
World Food is currently taking advantage of the commodities market volatility. WFAO is primarily an agricultural business located in Brazil with locations World Wide. Recently the market has displayed dramatic occurrences that World Food was able to take advantage. World Food is a Mega Farm conglomerate that produces food, trades commodities and also has a Private Investment Sector. When asked about the market changes, Henry Oliver Ford said, "Traders noted heavy buying of corn by investment funds, which picked up an estimated 20,000 contracts during the trading day."
Soybean futures gained 2.8 percent on weather concerns. Wheat futures rallied on spillover strength from corn and soybeans as well as support from a weak dollar and firm equities markets.
Dollar-priced commodities registered broad gains as the dollar dropped after Australia raised its interest rates and a report circulated, later denied, that Gulf Arab states were in talks to shift oil trading away from the dollar.
The weak dollar, which sent gold prices to a new record above $1,040 per ounce, makes U.S. commodities more competitive on the world market.
CBOT December corn futures settled up 16-3/4 cents at $3.58-1/4 a bushel, the nearby contract's highest close since $3.69 a bushel on July 14. Corn prices hit a high of $3.70 earlier in the trading session, their highest since reaching $3.81-3/4 on June 30.
There was talk at the Chicago Board of Trade about growing demand for U.S. ethanol, which added to the bullish views on the corn market. However, World Food Association based in Brazil remains steady in their Agri-business.
The 4.9 percent gain was the corn market's biggest rally since surging 13.6 percent on Sept. 15 amid concerns about an early frost.
CBOT November soybean futures ended up 25 cents at $9.10 a bushel, while December wheat futures rose 17-1/2 cents to $4.60-1/4 a bushel, a 4 percent gain.
A frost that damages 10 percent of the corn crop could cut back production by an estimated 500 million bushels, Ford said.
"Judging from the market action in corn, there could be significant damage," he added.
Planting delays during the spring and cool weather in the summer had slowed the development of much of the corn and soybean crops, leaving many plants vulnerable to a freeze.
"Weather is the big concern at the moment as temperatures get colder in the U.S.," said Tim Glass, global head of commodities at National Australia Bank ( NAB - news - people ).
A freeze expected in the U.S. Corn Belt this weekend should end the growing season for crops in many areas.
The U.S. Agriculture Department said Monday afternoon that the soybean harvest was 15 percent complete as of Oct. 4, up from 5 percent the previous week but below the five-year average for early October of 25 percent.
For More Information Call:
World Food Association Organization
777 S. Flagler Drive West Tower Suite 800
West Palm Beach, Florida 33401
5615156015
###