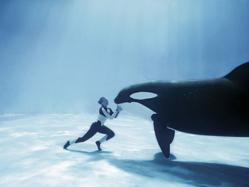 Managers are the modern kings of the corporate world. So they need to be prepared.
Dallas, TX (PRWEB) January 15, 2013
Management training is the backbone of any organization that consults Carlton's Training Solutions. They can attack issues as blatant as protocol for new supervisor advancement to the role of upper management. The breakthrough in corporate training for Carlton's Training Solutions this year is the Whale Done and Would I Follow Me training videos.
The corporate training world has changed drastically in just the last few years. The requirements of managers have been heaped upon them relentlessly. Why? The recession? Expectation? Regardless, management training has been crucial in assisting managers in dealing with the high standards and responsibilities put on their plates. Mandy Thompson of Charmin comments, "Managers are the modern kings of the corporate world. So they need to be prepared."
The [Whale Done training videos are a collection of enthusiastic management training videos that focus on the power of positive relationships. Managers learn from the trainers at SeaWorld that positive reinforcement has a greater impact on their killer whales as much as it does on employees. The relationship is thus more engaged and filled with more levels of trust and helps employees to stay motivated to give their best.
Would I Follow Me explores the notion of a manager doing some introspection to discover and learn the traits that employees follow. Great leaders throughout history have shared some common themes. In this program managers learn the standards and qualities that induce others to follow with all they can give the organization.
Carlton's Training Solutions provides education in many areas such as chemical agents, management training, what is communication, conflict resolution, what is diversity, how to open a meeting, performance appraisal, performance management training, workplace violence, safety training, sales training, sexual harassment training, substance abuse, team building, customer service videos, time management, trainer for trainers and telephone customer service training.
The Carlton's Training Solutions strategy for management training encompasses all the learning tools to make managers great. They have even taken advantage of their world wide connections to usher a wave of training videos into the market by using business experts and world famous personalities such as Joel Barker, Ken Blanchard, Stephen Covey, Lou Holtz, Dewitt Jones, Catherine Crier, Ben Zander, Bob Farrell, Tom Peters, John Cleese, and Morris Massey. To view topics on corporate training or discover more about Carlton's Training Solutions click here at their site carltonstraining.com. The training videos by Carlton's Training Solutions handle corporate training and level their aim at management training to assist their clients.