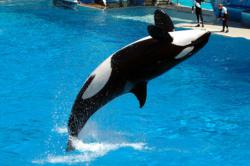 I've found people do their best work when they're inspired on a personal level by the people around them.
San Francisco, CA (PRWEB) May 13, 2013
Whale Done is a motivational training video with Carlton's Training that creates strong bonds in organizations. Ken Blanchard of situational leadership acclaim hosts this unique training video on the power of positive relationships. Most leadership training videos focus on how to achieve and the numbers it will take to get there. The Carlton's Training Whale Done video leads employees by properly motivating them with the Blanchard leadership style.
Killer whales doing back flips are an interesting way to start a leadership training video. It's different and exciting. But how does a one hundred to one hundred and seventy pound man or woman make a killer whale to do a back flip? Most mangers see their jobs as a lot harder than even this feat. The question might as well be how to get a five hundred pound gorilla to walk on his hands and learn a new software.
Blanchard leadership with Carlton's Training has always found positive and stimulating ways to motivate rather than make employees do anything. That's what true leadership is to Ken Blanchard. "I've found people do their best work when they're inspired on a personal level by the people around them," says Blanchard.
Whale Done goes through a series of steps managers can take to create these bonds. In fact the Carlton's Training video even has a meeting opener included titled Whale Done: the Power of Positive Relationships. The Blanchard leadership meeting opener is a three-minute recap for managers to check in to make sure they are not merely telling employees what to do but rather motivating them to do so.
Most employees don't like their bosses. Although it's not required for a good relationship to be productive, the statistics are alarming. Not only is the retention rate very low with employees not fond of their bosses but also so is the productivity. In 2004, only seventeen percent of employees "liked" their boss. But those employees happened to be from the most productive companies in the world. Blanchard leadership has had a role implementing their training videos into over ninety percent of these organizations.
Carlton's Training utilizes Blanchard leadership and the Whale Done videos for client endeavors. The power of positive relationships in the workplace is an incredibly enlightening training video that assists managers in increasing productivity through the investment of relationships. To view this free preview online of Whale Done of Blanchard leadership or see other training videos click here on Carlton's Training.