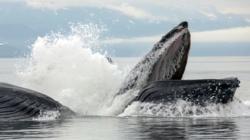 Juneau, Alaska (PRWEB) August 09, 2012
Whale Watch Alaska (WWA) publicly supports the efforts of the Sea Shepherd Conservation Society (SSCS) in what they view as combating illegal whaling, poaching and fishing practices in international waters around the globe.
In light of the news late last month that Sea Shepherd's founder, Captain Paul Watson, had forfeited his bail after being held under house arrest for 70 days in Germany, WWA made the decision today to publicly back the beleaguered captain. It is a controversial position to take for for any business, politician or celebrity (which include American actors Sean Penn and Martin Sheen as supporters) - let alone a tourism related business - given the contention and international politicization surrounding SSCS' at-times dangerous tactics in confronting what they describe as maritime criminality amongst certain governments.
A Whale Watch Alaska spokesperson said recently, "Though Sea Shepherd is based nearby [on the San Juan Islands in the neighboring state of Washington], its actions in helping foster marine wildlife sustainability worldwide - specifically in stopping the illegal slaughter of whales - has a direct impact on our business.
More importantly, from an ethical standpoint, now that governments are going after Captain Paul personally rather than his cause or movement alone, we felt it was time for us in the whale watching business - or indeed, any other business related to protecting and marveling at these beautiful creatures - to speak up and show him our support. If more businesses, no matter how big or small stood up to these corporations that support the illegal slaughter of whales, perhaps governments, the United Nations...whoever, would finally have the courage to do something about it. As far as we're concerned, this is bigger than a Julian Assange or Chick-Fil-A controversy. Discussions about particular tactics aside, this arrest and manhunt for the captain is simply wrong." http://whalewatchalaska.com/