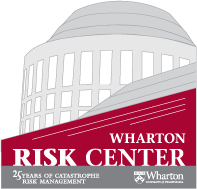 The Wharton experts can weigh in the prospects for a possible economic "stimulus" effect as a result of Hurricane Sandy
Philadelphia, PA (PRWEB) October 31, 2012
What: To discuss the economic and public policy impact of Hurricane Sandy, arrange Phone, TV, radio or Skype interviews with the Wharton School Risk Center l eaders behind the award winning book, "At War with the Weather."
How: Contact Peter Winicov, Wharton Communications, at +1-215-746-6471 or +1-610-952-1369 or winicov(at)wharton(dot)upenn(dot)edu. An ISDN radio line, VideoLink remote video facility and web cams are available.
Why: The experts can weigh in on:

Whether government assistance rises or falls when disasters strike prior to elections
The prospects for a possible economic "stimulus" effect as a result of Hurricane Sandy
What federal infrastructure projects might be launched as a result of Sandy's wrath
What business and government leaders can do to mitigate, insure against, and finance recovery from natural disasters in the United States.
The Wharton experts can offer innovative, long-term solutions for reducing losses and providing financial support for disaster victims that define a coherent strategy to assure sustainable recovery from future large-scale disasters. The amount of data collected and analyzed and innovations proposed make it the most comprehensive work on these critical issues in the past thirty years.
Who:
Profs. Howard Kunreuther, Robert Meyer and Erwann Michel-Kerjan, co-directors, Risk Management and Decision Processes Center at the Wharton School of the University of Pennsylvania. Learn more here:
About the Wharton School of the University of Pennsylvania:
Founded in 1881 as the first collegiate business school, the Wharton School of the University of Pennsylvania is recognized globally for intellectual leadership and ongoing innovation across every major discipline of business education. With a broad global community and one of the most published business school faculties, Wharton creates ongoing economic and social value around the world. The School has 5,000 undergraduate, MBA, executive MBA, and doctoral students; more than 9,000 annual participants in executive education programs; and a powerful alumni network of 91,000 graduates
###