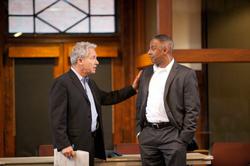 We believe that the differences in our employees backgrounds is what leads to our greatest breakthroughs.
Miami, FL (PRWEB) February 08, 2013
Diversity training from Carlton's Training Solutions can include cultural inclusion and take on the importance of respecting religious beliefs in the workplace. Employees need to feel their heritage and creed will be smiled upon and that they can become part of a cohesive working team. This year, Carlton's Training Solutions brings more diversity training videos to the world than ever before.
Now more than ever companies are seeing the value of creating and maintaining a diverse workforce. "We believe that the differences in our employees' backgrounds is what leads to our greatest breakthroughs," says Sam Braxton of Hitachi. And other companies see it that way too. Companies define what is diversity and expand in the global market to see greater profit share not simply from expansion but inclusion.
Harassment training comes into play when employees need to be protected and have a place to voice complaints and be heard when experiencing actions about harassment. All forms of harassment and discrimination in the workplace based on gender, race, and religion will not be tolerated.
A sexual harassment video can be more specific in regards to a complaint and grievance system and a zero tolerance program to inspire a proper working atmosphere. Sexual harassment training can cover anything from an uncomfortable hand on the leg to lewd comments to a fellow employee.
The subjects Carlton's Training Solutions takes on can vary from making sure the company recognizes legal issues in employment hiring practices to great leadership training strategies. Other topics they cover are chemical agents, what is employment law, how to open a meeting, motivational videos, what is communication, conflict resolution, what is diversity, ethics and conduct, generational differences, muppet meeting openers, performance appraisal, performance management training, safety training, team building, customer service videos, telephone customer service training, change management, management training, about harassment, and innovation.
Carlton's Training Solutions helps organizations hit their goals and see diversity training as crucial to a company's bottom line. The business minds and celebrities brought forth in the training videos are John Cleese, Tom Peters, Joel Barker, Ben Zander, Ken Blanchard, Dewitt Jones, Stephen Covey, Catherine Crier, Bob Farrell, Lou Holtz, and Morris Massey. To check out other subjects on corporate training or view more about Carlton's Training Solutions, click on their site here at carltonstraining.com. Diversity training will continue to be a point of focus for Carlton's Training Solutions.